Leadbetter golfers excel at the HJGT Orange Lake!
April 26, 2010
by: The Leadblogger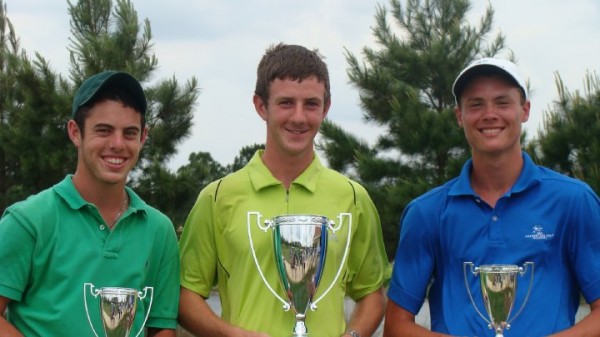 Numerous IMG Academy Leadbetter golf program Golfers traveled to Orange Lake Resort this past weekend to compete in the Hurricane Junior Golf Tour event being held there. The event was played on the Reserve Course which has an abundance of water hazards, out of bounds, and tight fairways which required accuracy off the tee. Saturday's weather was filled with lot of sunshine and warm temperatures. The final round began with sunshine but heavy wind gusts throughout most of the day made it for an interesting Sunday.
Leadbetter golfer, Gary Dunne of Greystone, Ireland jumped out to an early lead in the boys 16-19 division with an opening round of even par 71 on Saturday. Gary got off to a hot start with a 33 on his front nine which included three birdies. Fellow IMGer's , Greg Zielinski (Poland), Bjarki Juliusson (Iceland), and Eduardo Zamudio (Mexico) all trailed Gary by three shots heading into Sunday with opening rounds of three-over-par 74. Gary continued his nice play on Sunday carding a final round of three-over-par 74 which was good enough to earn his third HJGT victory - his last win was the 2009 Tour Championship in December. First semester IMG golfer, Patrick Mullaney of Hinsdale, Illinois crept up the leaderboard with his consistent play recording rounds of 75-75 and finished in 2nd place.
Tanner Jenson and Jiacheng Kang finished tied for 3rd place with 152 totals. Thomas McLaughlin, Greg Zielinski and Mark Sanchez also all had Top 10 finishes!
In the boys 13-15 division, Leonardo Kitahara of Brazil played exceptionally well on Saturday with an opening round of one-over-par 72. Leonardo's round included a total of five birdies. When the final round began on Sunday the leaderboard began to shift. Leonardo struggled on Sunday and opened the door for others to make a move. Leonardo closed on Sunday with an 81. Fellow IMG golfer, Jeremy Walsh shot a 73 on Sunday to move up the leaderboard and finish in 2nd place with a 149 total. Also making a Top 5 showing was Hoyeong Kim who shot 72 on Sunday to make a good jump up the leaderboard. James Leadbetter shot 81-73 to finish 6th and Billy Zhao shot 80-79 to finish 10th.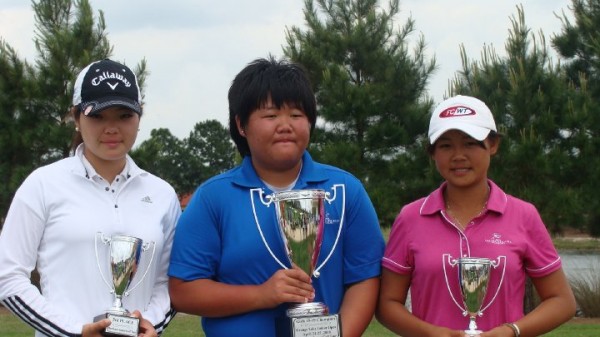 In the girls 15-19 division, IMG/IMG Academy Senior, Liting "Allie" Weng of Taiwan jumped out to the early lead with a 73 on Saturday. Allie's round included 13 pars which was good enough to hold a two shot lead. Fellow Leadbetter golfers, Hee Jong Lim of Korea trailed Allie with an opening round of 75. When the final round began on Sunday, the player who made the biggest move was Hsuan "Vivian" Chen of Taiwan. Vivian shot 82 on Saturday but came back and fired a tournament best two-under-par 69 which included an eagle on the sixth hole. Vivian posted her 69 early and waited for the leaders to come in. Allie had an up and down final round which included four birdies and a quadruple bogey but held it together to record her first HJGT victory with a final round of 76. Allie finished with a two day total of 149. Vivian moved into 2nd place after her great final round push and Hee Jong Lim of took home third place honors with rounds of 75-78.
Also playing well in the older girls division, was Xiner "Michelle" Ma, Shannon Pak and Katerina Prorokova. Michelle shot rounds of 78-80 to finish in 4th place. Shannon and Katerina tied for 5th place with two day totals of 160.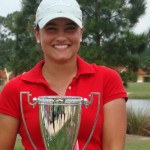 In the girls 10-14 division, Vitoria Teixiera of Brazil ran away with the title from the get go. Vitoria began the weekend with a 79 and fired an 81 on Sunday to record a 15 shot victory.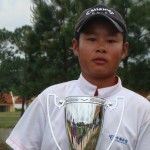 In the boys 10-12 division, 2nd year IMG golfer, Zong Fan Li of China opened with a 75 and found himself 3 shots back of the first round leader. Li shot 79 on Sunday which was good enough to take home the title.