IMG Academy Lacrosse program attends Florida state championships
May 03, 2010
by: Dan Tierney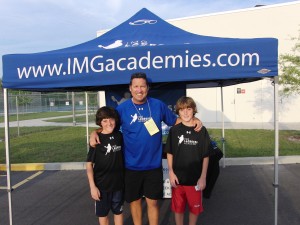 The IMG Academy lacrosse program was a part of the FHSAA Boys and Girls Lacrosse Championships last weekend in Orlando. The lacrosse event featured Winter Springs, Vero Beach, Lake Brantley and Park Vista in the Girls Divison, with the championship going to Vero Beach. The boys division featured Bolles, Lake Highland Prep, Lake Brantley and St. Andrew's with the Championship going to St. Andrew's. Over 5,000 lacrosse fans enjoyed the event and were treated to some amazing lacrosse.
Fans from all over the state of Florida were introduced to the IMG Academy lacrosse program which spent the 2 days educating young lacrosse players and parents about our facility and how it's the most unique lacrosse experience in the world.
"It was great to promote the IMG Academy lacrosse program to hundreds of enthusiastic players and get them up to speed on how we can help make them a stronger, faster, more skilled and confident player, said Lacrosse Academy Director, Kevin Finneran. "I applaud all of the student-athletes that left it all out on the field."
Two lucky winners were awarded a free week at our lacrosse program where they will experience professional coaching on the field as well as in our IMG Performance Institute. Each participant in our summer weekly program has 3 sessions with our Strength and Conditioning coaches, 1 session with our Mental Conditioning coaches and 1 session with our Nutritional coach. These are the same coaches that worked with MLL MVP and TEAM USA Midfielder Paul Rabil when he visited campus last month.
The IMG Academy lacrosse program will be attending other lacrosse festivals and events including Greenwich (CT) Youth Lacrosse on May 7th and the NCAA Final Four on Memorial Day Weekend in Baltimore.