Dryburgh and Jaramillo are victorious at Feather Sound!
May 06, 2010
by: The Leadblogger
IMG Golfer's Gemma Dryburgh, of Scotland, and Daniel Jaramillo, of Colombia, won their respective age groups at the 2010 FCWT Feather Sound Open May 1-2.
Gemma, started her final round one-shot back of the overnight leader and fellow IMG'er Sophie Hayashi. Gemma got off to a quick start on Sunday and closed with a 1-under par 71 and won by 3 shots 77-71)over Sophie who shot rounds of 76-75. With her final round of 71, Gemma also earned Low Round honors and her first FCWT win of the season!
Also finishing in the top 5 of the girls division from IMG were Vivian Chen (77-78) and Christina McQuistion (81-76).
Daniel Jaramillo, Osama Khan and Rigel Fernandes all made the Boys 13-15 age group an interesting competition. Osama shot 75 on Saturday and was the overnight leader. However, it was Daniel who came out ready to play on Sunday and fired a final round of 72 to go with his first day round of 77. Daniel's 72 earned him Low Round honors and won the age group by two shots over Diego Schiffino and Osama Khan (75-76). Fellow IMG'ers Rigel Fernandes (77-75) and Ben Davis(80-76) finished in 4th and 5th place respectively!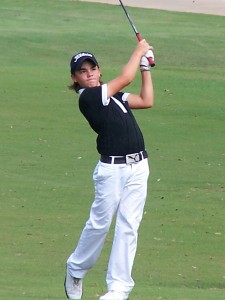 In the Boys 16-18 age group it was Hao Yuan "Steven" Lu and James Yoon garnering Top 5 honors. Steven Lu won Low Round Honors after firing an even-par final round of 72. Steven finished in 2nd place. James Yoon shot rounds of 72-76 and finished in 4th place.
Congratulations to you all on your fine play!
For complete results check out the FCWT website at www.fcwtgolf.com