IMG Bradenton Academics fall to Brilla
May 27, 2010
by: Dan Tierney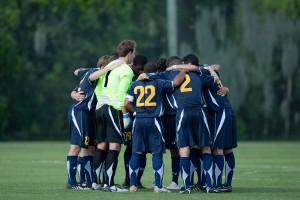 The IMG Bradenton Academics are one of nearly 70 teams from around the country representing the United Soccer Leagues in the Premier Development League, which mainly consists of college-age players. The league will run throughout the summer.
The IMG Bradenton Academics recently hosted their second home game vs. the Mississippi Brilla. After a successful season opening win vs. Ft. Lauderdale Shultz Academy, IMG came into this game with a 1-1-1 record.
The first half began with a possession struggle in the midfield, with both teams eager to find their rhythm. Mississippi found it first. After a corner kick was cleared, the ball found its way back on Bradenton's half and a quick cross from Brilla midfielder Lucas Paulini found Willie Hunt unmarked at IMG back post for the first goal of the match in the second minute. Down a goal, IMG came to back to life quickly. Midfielder Steven Morris led the attack and quickly sped down the right flank, with a swift pass to team captain Andre Manders.
Manders found his way into the box and was taken down. Unfortunately, Morris couldn't not convert the potential game tying goal.
Newcomer Taylor Morgan showed a lot of potential for Bradenton up front, but could not convert on his numerous crosses from the outside. After a hard-fought half, the game stood at 1-0 Mississippi after 45minutes of play.
After 45 minutes in 90 degree weather, the 15 minute halftime recharged both teams. A quick attack from Bradenton paid off in the 46th minute. Once again, a penalty kick was issued due to a hand ball inside the Brilla box. A chance for redemption arrived, and Steven Morris buried it. 1-1. The momentum rapidly changed from IMG back to Mississippi. A counter attack put IMG on their heels and Moses Adgny finished the game winning goal in the 50th minute.
Bradenton will be back in action at home vs. Central Florida on Thursday, June 3rd.