IMG Academy lacrosse program sets up shop at NCAA championships
June 03, 2010
by: Dan Tierney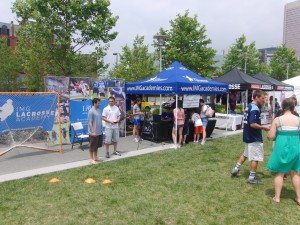 The IMG Academy lacrosse program was a part of the NCAA Men's Lacrosse National Championships over Memorial Day Weekend in Baltimore. Situated at the Inside Lacrosse Festival at Inner Harbor, the event featured Dartfish Video Analysis, a free raffle for a week of camp this summer and interaction with players and parents from around the country. Over 125,000 lacrosse fans enjoyed the event and were treated to some amazing lacrosse.
"It was great to promote the IMG Academy lacrosse program to hundreds of enthusiastic players and get them up to speed on how we can help make them a stronger, faster, more skilled and confident player, said Lacrosse Academy Director, Kevin Finneran. "I applaud all of the student-athletes that left it all out on the field."
The weekend also introduced our Head Girls Lacrosse Coach, Aly Josephs to the country. Coach Josephs spent time reaching out to young girls lacrosse players as well as cheering on her Alma Mater, Northwestern, in the championship game vs Maryland.
Two lucky winners were awarded a free week at our lacrosse program where they will experience professional coaching on the field as well as in our Athletic & Personal Development program. Each participant in our summer weekly program has 3 sessions with our Strength and Conditioning coaches, 1 session with our Mental Conditioning coaches and 1 session with our Nutritional coach. These are the same coaches that worked with MLL MVP and TEAM USA Midfielder Paul Rabil when he visited campus in early Spring.