IMG Academy football program KICKOFF WEEKEND award winners!
June 10, 2010
by: Dan Tierney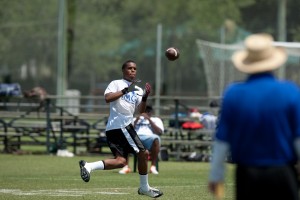 See below for more photos
The IMG Academy football program launched in style, with more than 100 youth/teen football players from 27 states participating and a star-studded collection of coaches working with them.
Check out stories on Tampa10, Bright House Sports (video) and in the Bradenton Herald.
On Sunday, a few award winners were named:
Camp MVP - RB Mitchell Hester (Jacksonville, FL/Duncan Fletcher HS/Class of 2011)
Offensive MVP - QB Matt Floyd (Milton, FL/Milton HS/Class of 2011) AND Wide Receiver Ricky Jones (Sarasota, FL/Booker HS/Class of 2012)
Defensive MVP - CB Brian Poole (Bradenton, FL/Southeast HS/Class of 2012)
Offensive Big Man - OL Wendel Williamson (Bradenton, FL/Bayshore HS/Class of 2011)
Defensive Big Man - DE Dante Fowler, Jr. (St. Petersburg, FL/Lakewood HS/Class of 2012)
Breakout Skill Athlete - WR James Onwualu (St. Paul, MN/Cretin-Derham Hall/Class of 2013)
Breakout Lineman - OL Corey Martinez (Tampa, FL/Tampa Catholic/Class of 2014)