FSU's Jimbo Fisher talks about IMG Academy Athletic & Personal Development programsand mental conditioning
June 11, 2010
by: Dan Tierney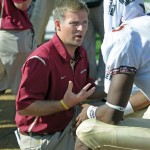 Stopping at a Florida State University booster event in Sarasota, FSU head football coach, Jimbo Fisher, talked for a while about Trevor Moawad, IMG Academy and how mental conditioning has helped his players.
Moawad, director of the Athletic & Personal Development program, works as a mental conditioning consultant for the team.
Check out the video on FSU blog Warchant.com here. Fast forward to around the 11:10 mark.