"I Just Kept Fighting"- How C.P. Struck Out with Sam Chandler
June 18, 2010
by: twilliams
"Obstacles don't have to stop you. If you run into a wall, don't turn around and give up. Figure out how to climb it, go through it, or work around it." This quote from Michael Jordan embodies what IMG Academy baseball program camper Sam Chandler has had to battle with his entire life.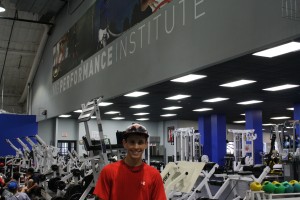 Mundane obstacles for many people include being to tired to focus while studying for an exam, being too sore to walk up and down stairs or better yet run around bases. The abilities that we take for granted on a daily bases Sam Chandler has had to fight for. In the United States, about 2-3 children out of 1,000 have Cerebral Palsy and as many as 1,000,000 people of all ages are affected says Emedicinehealth.com. Sam was born with a specific type of C.P. known as Spastic which has different types and severity levels within itself. Simply put it's an injury to muscle nerves controlled by the brains left side which can cause a right body deficit, lower body disability or complete inability to move all limbs. In Sam's case he was able to rehab his left leg and surgery had to be done on the right lower leg.
The surgery was successful but forced him to wear a corrective brace for 3 years. During the 3 years of the brace and after it was token off Sam continued a rigorous rehabilitation schedule. He didn't give up even though he knew the road would be difficult.
Baseball being a highly technique based sport is difficult for athletes without C.P. so it would seem impossible for one with the condition. Sam says it's a daily struggle in hand eye coordination, hitting and ability to have strong wrist. IMG's Baseball Academy once again proves why it is a top rank program known throughout the nation. "Yes, modifications had to be made, but just because he could not perform the task like some of the other athletes didn't mean he couldn't be effective at achieving some of the goals we set; which he is" says IMG Academy Developmental Instructor Jason Elias. Being able to adapt the coaching methods and adjust technical positions all the while producing the same results speaks volumes to IMG 's coaching staff. Coach Elias said "He is a kid, a coach dreams about having in their program because of his efforts and attitude."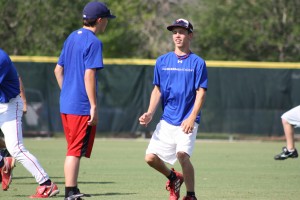 The quote from Michael Jordan is fitting because he is one of the greatest players to do his sport so even more fitting would be a quote from one of the greatest kids IMG has on campus and one of the greatest athletes to come through the Baseball program. "Keep trying as hard as you can; Keep Fighting" says Sam Chandler.
Sam Chandler is 15 years old. He is son to Mike and Leasa Chandler and is the youngest of three boys.