IMG Academy donates 3.1 tons to Goodwill
June 21, 2010
by: Dan Tierney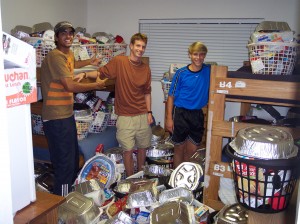 With students hailing from around the world, a huge amount of clothes, sporting goods and various other items are often left behind at the Academy.
Rather than throw everything out, IMG Academy has teamed with Goodwill to redistribute the items to the less fortunate. On Friday, IMG Academy, led by Ash Ghaffari, director of student services, and several staff members and students donated 3.1 tons of articles to Goodwill.
From the Sarasota Herald-Tribune:
A 28-foot trailer was parked at the campus in west Bradenton for two weeks as it filled with clothes, area rugs, comforters, stuffed animals and suitcases.

Atticus Deprospo, IMG's 17-year-old student council president, encouraged students to donate items they could not take home rather than throw them away.

"We can't bring all our stuff home with us, so instead of throwing it in the garbage can, we can donate to people that can use the items and contribute to a good cause," he said.

Deprospo, who lives in New York and trains at IMG for soccer, donated his $70 Schwinn bicycle. His roommate from Australia and friend from Japan donated dishes, basketball shoes and Hollister clothing.
When students go back home for the summer they sometimes leave items behind in their dorm rooms. Most of IMG's students come from other states and countries and it's too difficult to take their belongings home.

Atticus Deprospo, who bought a desk for his room a year ago, said he's getting rid of it.

"It's just easier to donate my items," the 17-year-old soccer player said. "Because I can't carry it all back on the plane with me."

Often those items end up in a landfill.

To prevent that, the school has partnered with Goodwill Manasota to donate everything to them.

"In the past we threw items away and now we're really taking an initiative to go green," said director of student services Ash Ghaffari.