Double fault: Why are WTA players struggling with their serve?
June 22, 2010
by: Dan Tierney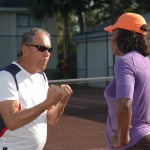 For many of the top WTA players, their journey to elite status came not because of their serve, but in spite of it.
From Dinara Safina to Ana Ivanovic, many of the WTA's top players have struggled to find consistency with their serve.
From a 2009 ESPN.com story:
"You need to write a book, what's going on with my serve," Safina said despairingly two weeks ago in Toronto. "It's a disaster. I don't bend my legs. I'm [not> jumping forward. I'm kicking it too much instead of hitting it more. ... I kick it so much that the ball doesn't fly anywhere and it goes in the middle of the net. I drop my head. I don't hold the left arm.

"I know this, and I'm still so stupid that I continue doing it."
Mary Carillo and ESPN recently delved deeper into the issue, asking Nick Bollettieri, who has worked with many of the world's best, and Trevor Moawad, Athletic & Personal Development program director, who has worked with Serena Williams and many others on their mental state, what they think is ailing the players.
Check out the video: