Gametime: IMG vs. FC Milwaukee
June 26, 2010
by: IMGSoccer1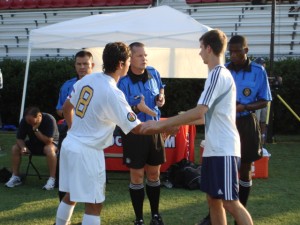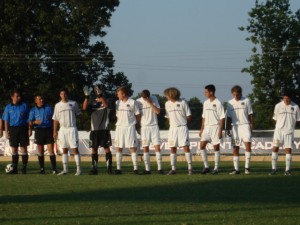 The starting lineup for IMG:
Goalkeeper: Mark Bixler, Defense:Jon Eckford, Matt Glodack, Atticus Deprospo, Rolando Zamora, Midfield: Martin Oniveros, Joey Hutchingson, Fernando Mares, Jorge Risquez, Andres Acevedo, Forward: Brett Jankouskas,
0:00 Milwaukee Kick off
0:05: Milwaukee plays the deep ball, header by Deprospo, Milwaukee corner kick
0:45: Header over the bar
Fernando Mares battles to win the ball back for IMG, SHOT by Jankouskas....tipped over the bar. Corner Kick IMG
4:00 Corner cleared by Milwaukee to Acevedo, Shot, wide. Goalkick
Milwaukee has possession in IMG's half, stolen by Hutchingson, taken down the wing at Deprospo: ball out, throw in .
11:00: Great cross by Deprospo, header by Acevedo, just wide
12:30. COUNTER ATTACK by Milwaukee, cross, cleared by Eckford
Both teams are trying to establish a rhythm in the midfield with IMG keeping most of the possession.
The IMGs defense has on no problem with the Milwaukee attack. Just one player has been getting forward into the Milwaukee attack.
19:00: GOOOOOOOOOOOOOOOOOOOOOOOOAAAAAAAAL IMG. Great movement from Risquez to Ontiveros and Acevedo finished it all off. 1-0 IMG
23:00 Milwaukee cross, cleared by Eckford, Foul Acevedo. Milwaukee free kick 30yrds from goal.
Ball taken easily by Bixler
26:15 Shot by Milwaukee on the counter attack. Bixler save. IMG keeps possession
29:00 Foul in Milwaukee's half on Acevedo, Free kick. 50/50 ball won by Eckford.
Good Ball movement by IMG, from the back line and Ontiveros, IMG has maintained possession for the majority of this match
34:00, Ball stolen, shot, saved by Bixler.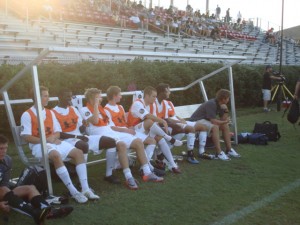 35:00 Corner Kick Milwaukee......taken by Bixler. Man down on the field, IMG's center back Jon Eckford......he's ok !
40:00Jankouskas pressure causes a IMG throw in deep in Milwaukee's half.
41:00, Cross by Zamora, deflected, corner kick.........foul in the box on IMG. Free kick Milwaukee
43:00 Throw in IMG, taken by Zamora to Mares, ball lost. Milwaukee's counter attack broken up by Risquez, lost, Milwaukee attacks again
44:00 Shot by Milwaukee, BIG SAVE BY BIXLER
45:00 HALFTIME ! IMG 1 , Milwaukee 0
IMG should be happy with their performance for the first 45 minutes. They created 4 good chances and converted on one. Strong play by the defense and Goalkeeper Mark Bixler keeps IMG with a clean sheet so far.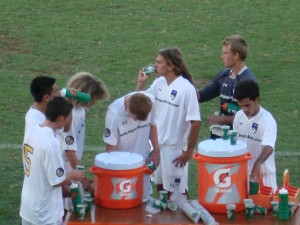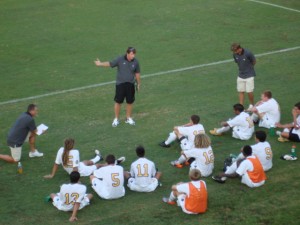 45:00 IMG Kickoff
Halftime Substitutions for IMG : Zach Stienberger & Ekenam Offili for BrettJankouskas and Joey Hutchingson
49:00 Foul on Eckford on top of the IMG box, Free Kick Milwaukee. Bixler sets up his wall........Shot, tipped over the bar by Bixler. Corner Kick Milwaukee
51:00, IMG counters, Ontiveros wins the corner kick, Ball cleared by Milwaukee right to Zamora, ball back in to Ofilli, hand ball Stienberger
54:00 Through ball to Stienberger, one foot too long, taken by Milwaukee goalkeeper
56:00 Yellow Card to Milwaukee for dirty tackle on Jon Eckford. He's ok.
57:00, Mis-clear by Eckford, Milwaukee break-a-way, SAVE BY BIXLER, corner kick....out for a goalkick
59:00 Shot by Milwaukee, over the bar, goalkick
60:00, Foul Risquez at midfield Free Kick for Milwaukee......taken by Bixler.
61:00 Milwaukee breaks through IMG backline and Zamora takes down his man. Risky tackle leads to a free kick 20 yards from IMGs goal.
62:00. Milwaukee shot hits IMG wall and cleared
63:00 One ball through by Milwaukee makes it past IMG defense , save by Bixler again! Mark Bixler is having a great game
66:00 Yellow Card on Milwaukee for late tackle on Matt Glodack.
Milwaukee has increased the pressure on IMG.
68:00 IMG Sub. Into the game Mike Allizo for Ekenam Ofilli
70:00 Shot by Milwaukee, one handed diving save by Bixler
72:00 IMG is on the attack, mares down the left wing, cross to Ontiveros in the box....shot....just wide.
Substitution for IMG. Andrew Butterworth into the game for Jorge Risquez
73:00 Stienberger to Ontiveros ...SHOT! Saved
75:00, Acevedo cross to Mares, Mares beats his man.....shot, wide. So close for Fernando Mares.
78:00 Stienberger battles in the midfield, pass to Ontiveros, back to Stienberger, cleared by Milwaukee.
81:00 Goal Milwaukee 1-1
84:00. Free Kick IMG
85:00. Failed cross by IMG. Milwaukee goalkick
88:00 IMG tried to build an attack, ball taken by Milwaukee, counter attack
89:00 Mares loses the ball inside Milwaukee box, goal-kick. Quality opportunity for IMG in the final minutes.
Two minutes of extra time have been added by the official.
92:00 CROSS INTO THE BOX BY KNAGGS, SHOT OVER THE BAR BY ONTIVEROS.
FINAL SCORE IMG 1- MILWAUKEE 1.
IMG will be back on the field tomorrow evening at 7pm vs. Vardar.