Gametime: IMG vs. Vardar
June 27, 2010
by: IMGSoccer1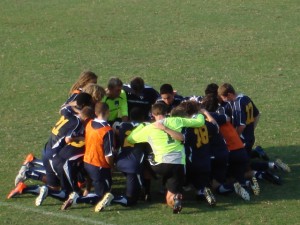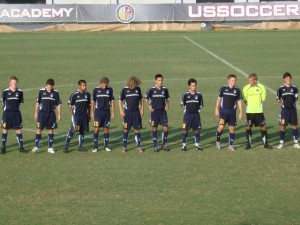 The starting lineup for IMG is:
Goalkeeper: Mark Bixler, Defense: Atticus Deprospo, Matt Glodack, Jon Eckford, Rolando Zamora, Midfield: Jorge Risquez, Martin Ontiveros, Joey Hutchinson, Fernando Mares, Andres Acevedo, Forward: Zak Stienberger
Subs: Cameron Baskett, Mike Allizzo, Andrew Butterworth, Raymorn Sturrup, Alex Knaggs, Chris Glodack
0:00 IMG Kick Off
1:30 An IMG turnover in the midfield leads to high pressure from Vadar resulting in a shot. Too High. Goal-kick.
Vardar keeps the high pressure on while IMG tries to connect through the lines.
4:30 Turnover by Mares in the IMG goal box leads to Vardar shot, Saved by Bixler and cleared.
The ball rolls into the street and is run over by a car, a new ball is being distributed.
5:45 Shot by Acevedo, wide of the goal.
6:30 Foul by IMG (Risquez( at half field ) Vardar will play the ball into the box. Cleared by Deprospo
IMG Counters with Stienberger and Mares, Crossed by Deprospo, Shot by Mares, Cleared.
8:20 Vardar Cross out of bounds, goal-kick
Possession struggle, multiple throw ins
11:00 Vardar shot, wide .Goal-kick
14:00 Cleaver play by Onvtiver, Vardar foul. Right side of Vardar box, Ontiveros is on the ball
Cross cleared, Vardar counter is stopped by an foul by Ontiveros. He is shown a yellow card. Free Kick from 45 yards out.
16:00 Another foul called on IMG, Vardar free kick. played into the box. taken by Zamora and cleared.
17:00 Shot by Vardar, goal-kick
18:00 Long ball by Eckford, too far to Stienberger, goalkick
19:00 Ontiveros is fouled, Free Kick IMG. Ontiveros plays the ball into the box but Vardar clears it. Good tackle by Eckford,
20:00 IMG corner kick, cleared
23:00 Shot by Vardar, punched out by Bixler
26:00 IMG throw in in on Vardars half, Vardar counters, well defended by Deprospo
28:00 GOOOOOOOOOOOOOOOOOOOOOOAL IMG. Onvitveros finds the loose ball in the box and buries it.
30:30 Corner Kick Vardar. Goal-kick
33:00, Vardar cross, headed, off the crossbar
35:00 Offside Vardar
37:00 Vardar throw in on IMG's half deep by the corner
38:15 Corner kick Vardar.......headed over the goal
43:00 long ball from Eckford to Stienberger, Deep throw in for IMG on Vardars half
45 + Free kick IMG, the maintain possession
HALFTIME!!! IMG 1, Vardar 0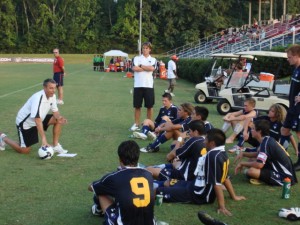 45:00 Vardar Kick off
46:30 Vardar corner kick, cleared
48:30: Vardar corner kick, punched away by Bixler
53:00 Vardar shot wide, IMG Goal-kick.
54:00 IMG sub. In:Mike Allizzo. Out:Fernando Mares
56:00 IMG sub. In: Andrew Butterworth. Out: Joey Hutchinson
Injury on the field, IMG defender Jon Eckford.
Play has resumed
60:00 Foul on IMG. Free kick at half field for Vardar
61:00 Shot by Allizzo, goal-kick
IMG Sub In:Brett Jankaskas. Out: Zak Stienberger
63:00 Free kick IMG. Ontiveros is over the ball.
64:00 Corner kick IMG......cleared for IMG throw in
70:00 Foul on IMG midfielder Mike Allizzo. Free Kick for IMG on right side of Vardar box
Ball cleared, Offside Vardar
75:00 Yellow card Vardar for late tackle on Acevedo.
IMG Sub. In: Alex Knaggs. Out: Acevedo
77:00 Allizzo wins the corner kick for IMG
Ball, Cleared to IMGs end for a goal-kick.
82:00 Corner kick Vardar, taken by Bixler. to Allizo, cross to Onitveros
GOOOOOOOOOOOOOOOOOOOOOOOOOOOOOOOOOOOOAL!!!!!!!!!!!!!!!!!!!!!!!!!!!!!!!!!!!!!!!!!!!!!!!!!! Great finish by Martin Ontiveros
2-0 IMG
85:00 Vardar cross easily taken by Bixler, IMG counters, Shot by Knaggs.......Goal Kick
87:00 IMG Sub. In: Cameron Baskett. Out: Martin Ontiveros
89:00 Vardar corner kick. Goal
IMG 2, Vardar 1
90+ Vardar throw in
Shot by Vardar, SAVE Bixler, Corner Kick...final minues of play
IMG WINS IMG WINS IMG WIN !!!!!!!!!!!!!!!!!!!!!!!!!!!!!!!!
FINAL SCORE: IMG 2, Vardar 1
IMG will be back in action Tuesday morning vs. California Development Academy at 11am.
An IMG win will secure a spot in the National Finals.