Christopher Jinno named Camper of the Week
June 28, 2010
by: Dan Tierney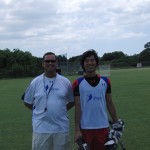 Christopher Jinno made history last week at the IMG Academy lacrosse program.
Jinno, who plays lacrosse at the prestigious Keio University in Westchester, NY/Tokyo, won the inauguaral Camper of the Week Award. IMG Academy lacrosse program Director, Kevin Finneran, gave the award to Jinno based on his playing ability and leadership shown during the week-long camp.
"Chris is the kind of player any coach would like on his squad," said Coach Finneran. "He is constantly seeking to get better and improve the play of his teammates."