IMG Bradenton Academics blank the Blackhawks
July 06, 2010
by: Dan Tierney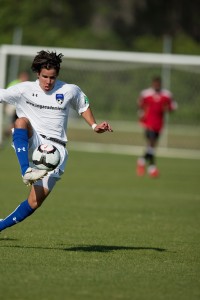 A great performance by the IMG Bradenton Academics was on display Saturday evening as Bradenton hosted the Atlanta Blackhawks.
IMG wasted no time as Mark McGee pressured the Blackhawk defense nearly scoring in the first minute by chipping the goalkeeper, just wide of the goal. The positive energy continued throughout the match. After losing to Atlanta in Atlanta 4-2, a must-win situation pushed the attack. Again, McGee found his way into the box and a great ball from midfielder Gerard Barbero put IMG up in the 15th minute 1-0. Many times after conceding an early goal, teams lay down and sit back, this was not the case with Atlanta. Their midfield pestered the Academics with 6 shots in the first half. Two big saves by Larry Jackson kept IMG on top heading into halftime.
The final 45 minutes was a battle for respect in the Southeast Division. Yellow cards flew, tempers flared and the crowed enhanced the atmosphere. IMG fed off the intensity and goals quickly came from everywhere. IMG alum and second-half substitute, Mark McCabe made his presence felt on the left side as a ball he played to forward Luis Calzadilla wound up in the back of the net, 2-0 IMG. One minute later McGee found the net for his second goal of the match. As substitutes entered, the chemistry did not skip a beat, Taylor Morgan pressured the Atlanta defense and his combo of size and speed capped off the match with the final goal.
A decisive 4-0 victory for IMG keeps the season in a positive light. The Academics will be back in action Friday as they travel to Nashville to face the Metros.