UF coach, Ryan Winters, guest coaches at IMG Academy lacrosse program
July 09, 2010
by: Dan Tierney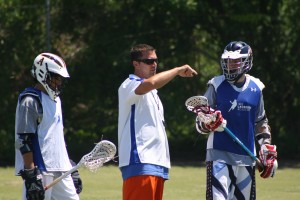 With an impressive winning percentage of .770+ at the University of Florida, it's easy to see that Ryan Winters has made a seamless transition from UF lacrosse player to coach. Before he enters his 5th season as coach of the Gators, Winters spent time this week working with IMG Academy lacrosse program director Kevin Finneran and the summer campers.
The future was set.
A job was promised to Ryan Winters at the Asplundh Tree Expert Company - a company based near where he grew up in eastern Pennsylvania, and he knew well from an internship. He received a degree in environmental horticulture from the University of Florida, where he played lacrosse for all four years, and all he had to do was accept the Asplundh position.
Then the Florida men's lacrosse head coach position opened.
"It was tough, but it wasn't much of a decision," Winters said. "The team was in real trouble. If I didn't take the job, the program could have really gone downhill, and I really care about the program. I figured it would it would only be for a year until they could find someone, but the team wouldn't let me leave.
"They still won't let me."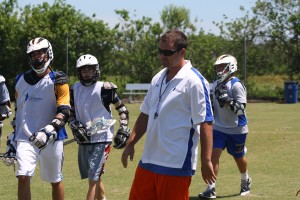 Now entering his 5th year as head coach, Winters has helped propel the Gators to elite status in the Men's Collegiate Lacrosse Association, a league consisting of more than 200 teams that play lacrosse at the club level. The participating teams are no lightweights, though. Teams to finish 2010 in the top 15 of the national rankings include traditional athletic powers like Michigan (No. 1), Arizona State (No. 2), Oregon (No. 9), Florida State (No. 11) and, of course, Florida (No. 14).
Many of these teams pull in top recruits despite not being able to offer any type of scholarship or assistance because lacrosse isn't an officially recognized sport at their respective school. Yet, they remain undeterred.
"Every year, I'd put the top four teams in the MCLA against anyone outside the top 20 in D-I," Winters says. "They have depth, coaching, talent, money. It's hard for D-I teams to even get any players from Michigan, because coach John Paul has it locked down."
As for Florida, Winters has seen it grow in both participation and interest since he moved to the state nearly 10 years ago. When he first started playing at UF, one Gainesville high school played lacrosse. Now, all seven in the area have boys' teams and six of the seven have girls' teams. Even the UF women's lacrosse team officially joined the NCAA last year.
Due to Title IX and other issues, the UF men's team still waits on the call to go D-I.
"I would love for us to make the jump," Winter said. "Honestly, the school could do it right now. We have a lacrosse stadium built with three fields. It's just proving that it will produce money and interest. There are so many factors that go into it, but it's inevitable that it will happen."