Creating Quite the Racquet
July 19, 2010
by: mmanasse
Is tennis more mental or physical? Well, with warrior-like players like Rafael Nadal and big serving giants like John Isner, the physical aspect of the game is becoming more prevalent. But even before physical changes started to occur, the evolution of the racquet industry was in full force. From Jimmy Connors T-2000 to Andy Roddick's Babolat Pure Drive, there has been years of technological improvements.Keeping up with the technology is a tough task for anyone to tackle, but the stringers at the IMG Academy Bollettieri tennis program are among the best in the world at it.
Rick Dutton and Randy Gibson have combinedover 50 years of experience in the racquet stringing and customization industry. From grand slams to normal ATP/WTA events, they have both done it all.Theyhave bothworked with top ATP and WTA players like Maria Sharapova, Xavier Malisse, Anna Kournikova, Venus Williams, and the list goes on. They can even string a racquet in under fifteen minutes. While both men have extraordinary credentials, their path to IMG Academy has been extremely different.
Rick Dutton's first stringing experience was in college over 35 years ago. "I actually wasn't even a tennis player. I played baseball, but stringing racquets was a great way to make some extra money." Upon graduating with a mechanical engineering degree, Rick still found himself stringing racquets on the side.One of his first major jobswas not at a tennis club or professional tournamentthough. Instead, he worked for the Colorado Welfare Division helping the blind learn how to string tennisracquets. "Stringing racquets was something that you do not necessarily need your eyes to do. It is all about the feel of the strings. I was given the opportunity to teach the blind how to string. It allowed them to get jobs and I loved that part of it." From there, Rick used his mechanical engineering degree to direct the manufacturing floorof Head Racquet Sports.
His knowledge and love for rackets showed during his time at Head. He was promoted to a lab technician where he was expected to build racquets from scratch. "It was pretty neat. I was able to combine my engineering knowledge with my racquet expertise and creativity." After working for Head, Rick was contracted to string and customize racquets at major events all over the world. Luckily, Prince Sports and IMG brought Rick to Bradenton, FL 14 years ago where he has been a huge asset to the academy. As I was discussing Rick's story with Randy Gibson, he said, "Rick is a technological genius when it comes to tennis rackets. He is one of the best in the world in my opinion. Most people don't realize that they are getting their racquet strung by a true professional." While Randy gives high praise to his colleague, his path to IMG has been pretty impressive as well.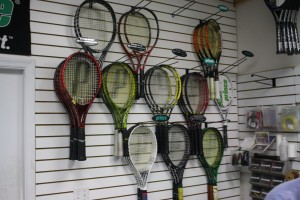 Randy Gibsonwas ranked top 35 in the state of Tennessee asa junior tennis player. As his level of play increased, he naturally started to break more strings. "I was breaking strings so often that I decided toinvest in a stringer. It saved money and I always knew the job would be done right." Gibson's next stringing gig occurred when he went off to college. Going to Middle Tennessee State, he had his sights set on playing four years of college tennis. To his disappointment, he did not get accepted on the team. However, the coach was impressed with his enthusiasm for the game and felt he could be a good character guy around the team. Gibson was offered a job stringing for both the men's and women's team. After two years of stringing for the team, the coach offered him a full-ride to be the team manager and continue his stringing duties. It then clicked for Randy that he could make a living out of it. "Stringing helped me pay for college and I realized it was more that just a hobby."
Ken Flack, the former Vanderbilt tennis coach and grand slam doubles champion, offered Gibson a job to string the team's racquetsshortly after graduation. While his time there was exciting, Gibson clearly wanted to work ona bigger stage. His big break came soon as he was contracted to string at the U.S. Open. "It was such an awesome experience. Stringing racquets for the top players was new for me. They are very particular and need it done quickly. I strung about 300 racquets over the two-plus week period." This job led to more professional stringing jobs before he finally came to IMG in 2005. During his time here, he has mostly been customizing and stringing for players of all levels. With his degree in Video Production, Randy also worked independently as a contractor creating videos for IMG Academy marketing department for three years. He also was in charge of the promotional videos with Nick Bollettieri and Pat Dougherty.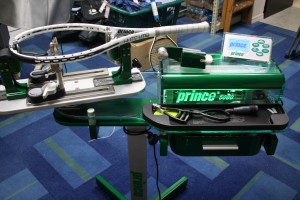 Randy Gibson and Rick Dutton are two of the top stringers in the world. Their expertise is unparallelled and IMG Academy is lucky to have them. When I asked them what advice they would give to a young player looking for a racquet change, they said, "The player needs to know what they want out of their racquet. It can be used as a tool and they need to know how to utilize it. I really think they need to understand the type of player they are and settle with a racquet that can compliment their playing style." The two experts certainly compliment IMG Academy. With the ever changing racquet industry and the technological evolution still ongoing, it is nice to know that we have to stringers to keep us informed and on top of our game!