Getting to know... MLL star Chazz Woodson
July 22, 2010
by: Dan Tierney
He's flooded YouTube pages with highlights of his acrobatic and athletic style of play, but Chicago Machine star Chazz Woodson has much more going for him than a flashy game. He spent time this week guest coaching at the IMG Academy lacrosse program and helped campers gain a new perspective.
"Having a coach/player like Chazz Woodson at the IMG Academy lacrosse program this past week has been special," said Director Kevin Finneran. "Coach Woodson brings so much to our program, but two aspects in particular. He gives our campers someone to look up to at the professional level who excelled at the collegiate level. This is the exact goal of the majority of our players. Secondly, his coaching philosophy is exactly what we teach -- focus on the fundamentals and good things will happen on the lacrosse field."
CHAZZ WOODSON ON...
...BEING A YOUTH ATHLETE: I've been playing for almost 20 years, which is kind of crazy to think about. My dad played a year at Middlebury and played club ball in Sacramento where I was born, and I have just been around it since then. I played a lot of football and basketball, but it basically came down to baseball or lacrosse in 6th grade, because my parents said, "We can't be carting you around to 8,000 games per week."
...HIS TIME AS A TEACHER AND STARTING MAKIN' MOVES MENTORING WHILE AT BROWN UNIVERSITY: Overall, I just like working with kids. I always have. Lacrosse, I believe, is just inherently about giving back. There have been so many people in my life who have given to me and made sacrifices for me. Lacrosse has given me so many opportunities, and I feel like it's my obligation to give back.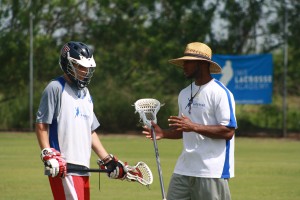 ...HIS STYLE OF PLAY: Most of it is just being an athlete. Sometimes, that gets lost. There's so much specialization, and everyone now only wants to play one sport. Skill sets translate well across a lot of sports. When I was younger, I wasn't bigger than anyone, but I was quicker. That's how a lot of the diving started. I could just use my quickness, get to the crease and launch myself.
...CREATIVITY ON THE FIELD: Most of what I do is improv. Honestly, I think the times when I'm most successful is when I have something in mind already. My mindset is if I can beat you to "X" spot and get in the air, I'm pretty tough to stop. A lot of guys just dive straight across. My idea is to get as high as I can so that I have some time to negotiate what I want to do.
...THE MOST MEMORABLE GOALS: It's cliché, but they're all memorable. I don't realize anything until I go back and watch film. The initial one that made people take notice is when I was with the Cannons in '06, and I'm still not really sure how it happened. I was behind the goal and somehow twisted around and scored. The one when I twisted and went behind my back was pretty good, too (See below at the :25 mark). I'm like a kid with it. I just like trying new things.
...THE HOBBY OF SPOKEN WORD: It's just something that I've always enjoyed. I took a liking to poetry when I was little. As far as the development of spoken word, I heard some people doing it and wasn't sure what it really was, but I liked it. I just started writing and thought I was decent until I realized how bad it was. Probably through my junior year of college until now, I've gotten more into it, though. I enjoy performing, but it's like any form of art. Some people say, "You're a terrible rapper." Well, I'm not rapping. I won't perform if I don't feel like I've practiced enough because it's a respect thing. When I'm on stage with some real poets and I'm just not doing it, I don't feel like I should be up there. Every now and then, I'll write something and get really into it then go on stage and perform, but I won't do it unless I feel prepared.
...HIS YOUNGER BROTHER, BRYCE: We were very competitive growing up, but we have a five-year age difference. I used to beat him up all the time until he got as big as me. And then even bigger. We've played some pickup and some summer league together, but that's about it. He's bigger and stronger, but I'm still quicker. We haven't really talked about playing together professionally, because I don't know if he wants to go the professional lacrosse route. I would love it, though. The last couple times we played pickup, he pulled out some moves that amazed me.
...WHAT PEOPLE MAY NOT KNOW ABOUT HIM: Despite my somewhat flashy style of play, I'm pretty low-key off the field. I'm outgoing with people I'm close with, but they also know that I kind of do things on my own. I enjoy my quiet time and being away from everybody.