Zach Duan shoots 61 - Ties AJGA scoring record!
July 22, 2010
by: The Leadblogger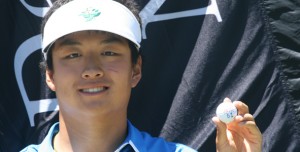 IMG Academy Leadbetter golf program golfer and recent IMG Academy graduate, Chenxiao "Zach" Duan of Beijing, China put his name in the record books yesterday after firing a 9-under-par 61 in the second round of the AJGA Trader Joe's Junior Championship hosted by Pat Hurst. Zach's impressive round tied the lowest 18-hole single round score in the history of the AJGA!
Conducted by the AJGA, the Trader Joe's Junior Championship hosted by Pat Hurst is a 54-hole stroke-play event held at Castlewood Country Club on the Hill Course in Pleasanton, CA. The 99-player field features 72 boys and 27 girls, ages 12-18, from ten states, Canada, China, Mexico, Hong Kong and the Philippines.
Zach left Florida last week for good to start his life in California. This AJGA event is last of his junior career as he will be starting his freshman year at UC Irvine in August!
Zach started off his 2nd round by making birdie on five of the first six holes he played. Overall, Zach had 10 birdies on the day and only one bogey. Zach works with DLGA Director, David Whelan and short game has been a focus over the last two years of Zach's time at IMG. It seemed to pay off as he chipped-in twice and only had to take 23 putts on his way to 61!
Zach enters today's final round with a 1-shot lead. He tees off today at 12:20
Be sure to check out the final results at www.ajga.org
Play well today Zach!