The comeback of D'Qwell Jackson
July 23, 2010
by: Dan Tierney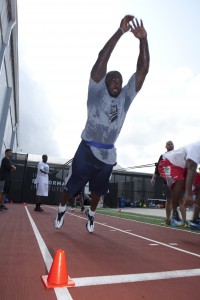 Two years ago, D'Qwell Jackson dominated the middle of the Cleveland Browns defense, tallying 188 tackles to lead the team.
Last season, an injury in week six ended his season prematurely. To get back to his '09 form, Jackson has spent the bulk of his time rehabbing, staying in shape and keeping his mind focused at the Athletic & Personal Development program.
From a Chris Harry story in AOL Fanhouse:
Jackson credits his offseason work at Athletic & Personal Development program in Bradenton, Fla., about an hour from his hometown of Largo, with his tip-top conditioning and positive outlook. He's been working out here since January and is so encouraged by the across-the-board results that he'll consider buying a condominium on the IMG property next year. at the Athletic & Personal Development program.

He certainly took his work at the IMG Academy Athletic & Personal Development programsmental training center to heart. Trevor Moawad, director at IPI, saw a change in Jackson over the course of their six months together, especially together they went through tape of Jackson's pro career and had the player pick out his favorite highlights, thus reinforcing all the positive things he'd done on the field -- and how he was capable of even more.
"Everything relates to another, so there's always a root source of your frustration," Moawad said. "One of the things in the evolution of D'Qwell over these months, I think what you saw was a sense that he had more and more control over his future."