IMG WBL Award Winners!
August 10, 2010
by: Dan Tierney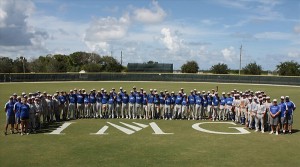 As with the regular season and playoffs, the Marauders dominated the hardware when Commissioner Jason Elias handed out the season-ending awards this past weekend.
After posting a 20-3 regular season record and recording a dominant 10-2 IMG WBL championship game victory, Marauder players took home four of the major league-wide awards. Photos from championship Saturday and the award presentations will come later this week!
MVP: Randy Tallhamer, Marauders
Defensive POY: Nick DiBenedetto, Marauders
Batting Champ: Luke Miller, Seadogs
Pitcher of the Year: Phillip Dilandro, Marauders
Championship Game MVP: Danny Lee, Jr., Marauders
Team Leader Awards
Marauders: Greg Lough
Conquistadors: Spencer Sherrill
Lightning: Marshall Hayden
Hurricanes: Zunnel Rosa
Manatees: Bex Trout
Seadogs: Travis Connolly