IMG to Host UA/ IMG Global Training Symposium October 3-7
August 11, 2010
by: akavouklis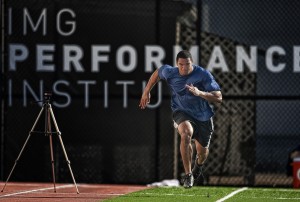 IMG Academy will be hosting the Combine 360 Global Training Symposium, sponsored by Under Armour and IMG, October 3-7. The Symposium will feature Keynote Speakers such as IMG President George Pyne and Under Armour founder and CEO Kevin Plank. Among topics discussed will be performance training; leadership, management, and personal development; and the C360 Certification Program taught by leading performance specialists and coaching practitioners. C360 is a systematic training process maximizing sports-specific performance, health, and fitness potential.
The Symposium is designed for professionals with a strong interest in the field of sports performancewho are looking to understand how to train the total athlete, how to make their athletes better, bigger, faster, and how to build and run a team, how to build and manage facilities. The certification program is a rigorous academic experience taught in a university classroom setting by leading performance, business specialists, and sports performance practitioners. Attendees will receive CEU's and CEC's from a variety of governing bodies.
Keynote Speakers
Kevin Plank: Founder and CEO, Under Armour
George Pyne: President of IMG
Todd Durkin: Head of UA Performance Training Council
Nick Bollettieri: Tennis Coaching Legend and Founder of IMG Academy
Steve Hess: Assistant Head Coach/ Strength & Conditioning Coach, Denver Nuggets
Symposium Topics
Performance Training for youth, adult, and professional athletes
Leadership, people management, and personal development
Facility design and construction
How world class athletes maintain their edge
Programming, marketing, and customer service
Building your customer base in the fitness space
Combine 360 - developing a baseline for all levels of performance
Click here to register or visit the Facebook page. Due to limited space, participants are encouraged to register early and to check the website periodically for updates.