All-Madden Camp in the news
August 12, 2010
by: Dan Tierney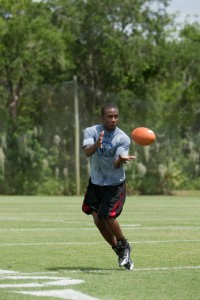 Featuring 75-plus football players from 12 states, the IMG Academy football program's All-Madden Camp brought a strong collection of talent to Bradenton, FL.
Check out what some media outlets had to say:
Big weekend for Southeast (MaxPreps):
While the IMG Academy football program has attracted some of the top players from around the country, two of the biggest stars this summer have hailed from right across town.

Southeast's (Bradenton, Fla.) Giovani Francois and Brian Poole were named Defensive Line MVP and overall Defensive MVP respectively at the IMG Academy football program's three-day camp over the weekend.

In total, 75 players traveled to Bradenton to participate under the watchful eye of camp director Chris Weinke. Francois and Poole, playing close to home, rose to the top.

Francois is a 6-foot-2, 235-pound defensive end with good strength and sound fundamentals. He recorded 28 tackles and five sacks a year ago.

Only a junior, Poole looks to be one of the country's top defensive backs for the class of 2012. Last season he was responsible for 45 tackles and an interception.

With both players back for the 2010 season, Southeast could have one of the better defenses in South Florida.
Agholor picks up USC offer (ESPN.com):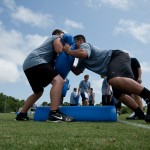 There have been a lot of questions about rising junior athlete Nelson Agholor (Tampa, Fla./Berkeley Prep), since he was offered by Southern Cal earlier this year.

The 5-foot-11, 170-pound small-school star added offers of Florida, Georgia, Notre Dame, South Florida and UCLA in the following weeks and has been impressing many at camps.

"I've just been a player in the right spot," Agholor said, while participating in the All-Madden Camp last weekend at IMG Academy in Bradenton, Fla.
Joyer earns IMG Academy football program camp award (Tampa Tribune):
Hunter Joyer might be a man of few words, but those around the Tampa Catholic senior keep raving about him.

This weekend, it was the coaching staff at the IMG Academy football program, which includes camp director and Heisman Trophy winner Chris Weinke. Joyer, a 5-foot-11, 248-pound fullback and linebacker at TC, attended the three-day event in Bradenton and Sunday emerged with the Offensive MVP Award.

Not only did Joyer impress the coaches with his performance on the field, he blew them away with his attitude and personality.

"Hunter got our attention from the get-go," Weinke said. "I'm a very firm believer in discipline and carrying yourself the right way and in that regard, Hunter stood out almost immediately."
Poole, Francois honored at camp (Sarasota Herald-Tribune):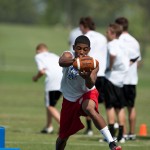 Southeast High defensive back Brian Poole and defensive end Giovanni Francois were honored at the IMG Academy football program last weekend in Bradenton.

Director Chris Weinke, a former Florida State University quarterback and Heisman Trophy winner, handed out the awards to the two Seminoles, who were among the 75 players to participate in the three-day event.

Poole was tabbed as the top defensive player. Francois was named the top defensive lineman.
Prep notes (MaxPreps):
Tampa Catholic (Tampa, Fla.) rising senior fullback Hunter Joyer (5-11, 248) was named Offensive MVP during the first annual IMG Academy football program Camp in Bradenton, Fla. Southeast (Bradenton, Fla.) rising junior cornerback Brian Poole (5-9, 175) was named Defensive MVP. The field consisted of 75 players from 12 states.