IPI's Mental Conditioning team works with UGA women's soccer
August 25, 2010
by: Dan Tierney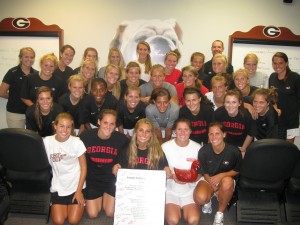 Alison Levine, M.S. and Team Sport Mental Conditioning Specialist Joshua Lifrak, M.S. recently traveled to Athens, Georgia to help the University of Georgia women's soccer program mentally prepared for the season.
They had one trip at the beginning of the preseason and one trip at the end, with the goal being to help the team come together learn about the mental skills necessary to become a great team. The two days were a combination of team-building activities, educational lectures and dynamic small-group work.
In addition, Levine and Lifrak met with nearly every member of the team individually to support them through the preseason and give them tools to perform at a high level every day. The team has 14 freshman and a brand new coaching staff.