NFL rookie, IMG Academy' trainee Dexter McCluster has break-out first game
September 14, 2010
by: kberard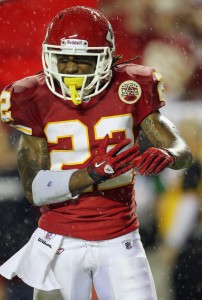 Small by NFL standards, but quick as lightning, Kansas City Chiefs rookie Dexter McCluster proved his mettle on the field Monday night, as the Chiefs took home their first win of the season against the Chargers. The Ole Miss standout joined fellow rookie Javier Arenas for a combined 160 punt return yards. In the second quarter, the 5'8", 165-pound McCluster fielded a punt and broke away for a 94-yard TD.
Prior to the start of his first NFL season, McCluster spent time this summer training and learning from NFL veterans at IMG Academy in Bradenton, Fla:
"I'm a young guy and just starting out, so I don't know what a lot of other guys are doing," McCluster said. "I came here to train and along the way learn from some of these guys how to be a pro. And I'm glad I did."
For more about McCluster's experience at IMG Academy, read Chris Harry's AOL Fanhouse look at pre-season NFL training.