IMG Academy lacrosse program APART OF THE WARRIOR/BRINE FLORIDA COACHES CLINIC
October 04, 2010
by: tonyv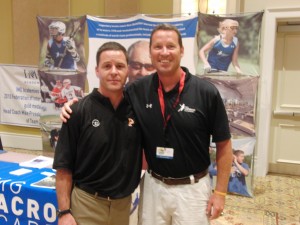 IMG Academy lacrosse program participated in the First Annual Florida Coaches Clinic the weekend of Sept 17/18th in Orlando. Over 150 men's and women's southeast coaches got a first hand opportunity to learn from Coach Josephs and Finneran what make the IMG Academy lacrosse program unique.
Participants were introduced to our series of Fall and Winter events including the 1st annual Holiday Lacrosse Camp which will be held Dec. 27th-30th and feature some great Division I Men's and Women's coaches (check website for details) Coaches also had a witness Dartfish Video Analysis on the big screen and how we incorporate this valuable teaching tool at all of our programs.
The coaching clinic was headlined by Men's Division I National Champion John Danowski from Duke University and Kelly Amonte-Hiller from 5 Time Champion Northwestern. Coach Amonte-Hiller was assisted by Coach Josephs during her presentation and Coach Josephs clearly demonstrated why she is one of the best up and coming teachers in womens lacrosse.