Senior Matt Xirinachs starts blog to share his experiences as a student of the IMG Academy lacrosse program
October 08, 2010
by: kberard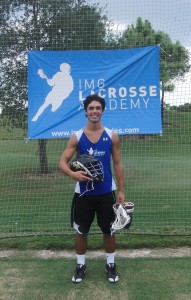 Senior Matt Xirinachs starts blog to share his experiences as a student of the IMG Academy lacrosse program:
Since my arrival here at IMG Academy, things have been even better than I expected. I knew a little bit about the academy because of past visits to see my brother who was part of the IMG Academy baseball program. But being a visitor does not do the rigorous and extensive training of the academy justice. Since day one, I've been pumped to work with Coach Finneran and Coach Ventiquattro to step up my game, and they have not disappointed.
The training is everything I expected - from working on stick control, Lacrosse IQ, shooting righty and lefty, to even conditioning, things could not be going any smoother for me. Coupled with the Physical and Mental Conditioning provided by the Athletic & Personal Development program, this system cannot be beat. This environment is unlike anything I've ever experienced before. The people you meet here are nothing short of phenoms. Everyone is here for that one specific reason: they love their sport and seek to improve. All of the friends you make, all of the coaches you talk to, they all commit to excellence 110%, and have that desire to never stop competing.
Out of all of the training I have done, nothing even comes close to this. There is no other place I know of that offers such a wide variety of physical and mental workouts; No other environment that surrounds you with such positive attitudes along with athletic training. It's everything an athlete could want and would need in order to improve his or her game.
I'm looking forward to keeping you posted on my experience here.