IMG Academy football program Profile: Sean Sherman
October 13, 2010
by: jclark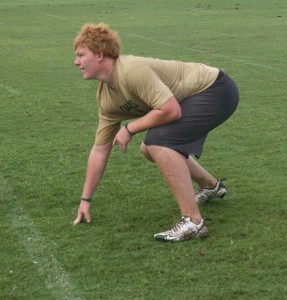 The IMG Academy football program hosted offensive lineman Sean Sherman (Hebron Academy/Hebron, ME/Class of 2011) for 10 weeks during its inaugural summer in 2010. Sherman elected to invest his entire summer at IMG Academy after high school graduation for the opportunity to continue playing football at the next level.
Having only played football for one season during high school; his senior season; Sherman was relatively raw with his ability to perform on the field in comparison to many other athletes in the Class of 2010. Recognizing he needed to overcome a lack of experience, Sherman and his family elected to go the route of joining a postgraduate program.
This fall, fresh off 10 weeks training under the coaching staff of the IMG Academy football program, Sherman joined the Hebron Academy in Maine to play under coach John Curtis, whom took the time to speak with the IMG Academy football program to discuss Sean Sherman.
"Sean did a fabulous job of staying in constant contact and keeping us up-to-date with everything once his family decided he would join our program," said Curtis. "We knew this entire past summer he spent his time at (the IMG Academy football program) and really enjoyed his experience. He reported to us in great physical shape, and displayed a lot of maturity and leadership traits not always common for guys his age. We have to motivate him at times, but once motivated, he is extremely coachable and stays on top of the instruction."
"As a program, we are allowed 3 postgraduates every year. I have coached here for 36 years. We've had our ups and downs, but our school is very academically focused and we strive to create an environment where our players are leaving not only better players, but as better young men. We've been very glad to have Sean be a part of our program. He is a great representative for our school, and is a great teammate. He is still developing and improving every day playing on both sides of the ball, but we see him as more of an offensive lineman. If he continues to improve at this pace, he will have an opportunity to play at the next level."
Sherman is profiled below in this IMG Academy football program production: