Combine360 Global Training Symposium a success
October 15, 2010
by: Dan Tierney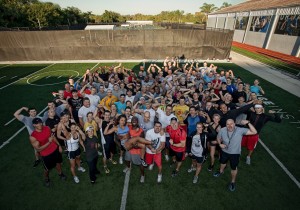 Attracting more than 100 strength and conditioning experts from a dozen countries and journalists from multiple outlets, the 2010 Combine360 Global Training Symposium brought out the best of the best.
From ESPN.com:
The giant comb is just one of the devices that Under Armour and the Athletic & Personal Development program in Bradenton brought out in early October as a way of introducing Combine360, which adapts the techniques used by professional athletes to gain the true measure of athletic potential.

"We looked at what [the NFL has> done and combined it with what we've done at IMG Academy for the past 30 years with 8- to 18-year-olds and professional athletes," said Brian Griffin, senior director of performance and sports marketing for Under Armour. "We looked at the things that are happening from a measurement standpoint and a training standpoint that are helping to improve the performance of these athletes."
From Fanhouse.com:
The most amazing thing about walking through the Athletic & Personal Development program is how many remarkable athletes train there, how hard they train, and how many staff members work with them to keep them at peak performance. Elite athletes can sacrifice and do all the right things but success is never guaranteed. When we attended some of the Combine 360 Global Symposium sessions, we learned about a number of the things that these athletes do to get an edge over the competition.
From SLAMonline.com:
Once I arrived on campus, I had one thought: IMG Academy is amazing! If you have never been here before, it is a little hard to find words to describe it. How about: "Athletic Factory". Driving through the campus I was immediately blown away by both the massive size and the technologies throughout...

Even in the dark you were able to see how state of the art this place was. We only made it to the weight room, basketball arena and tennis facility due to the vast size; but what we saw was incredible. Several different types of tennis courts, an enormous basketball facility and the most state of the art gym I have ever seen. The athletes both young and old who train at this facility are fortunate.
From the Gulf Coast Business Review:
The Bradenton-based sports-training complex, which restructured its executive management team in early 2009, has long sought a way to reach out to the fitness industry with something to test more than a person's athletic ability. Its answer is Combine360, a body of tests that probe an athlete's nutrition habits, mental skills and character development, in addition to what he or she does on the field or court.

Sam Zussman, managing director of the Academies, has likened Combine360 to the athletic equivalent of the SATs. Brian Griffin, the director of the program, adds that IMG believes "the combine is the one true test of an athlete's potential."