A great day for pool training
October 15, 2010
by: Dan Tierney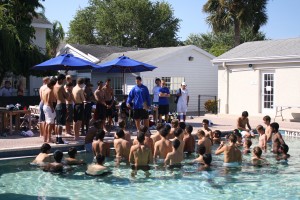 While much of the country has already pulled the cold-weather clothing back out of the boxes, Oct. 15 brought perfect mid-80s weather and cloudless skies.
In other words, the ideal day for a pool workout!
IMG Academy Athletic & Personal Development programsperformance specialist Alex Cohen took most of the players from the IMG Academy Bollettieri tennis program boys program to the Student Union pool for a water-based workout. Only in Florida... only at IMG Academy.