Sammie's World -- A first-person view from IMG Academy
October 15, 2010
by: Dan Tierney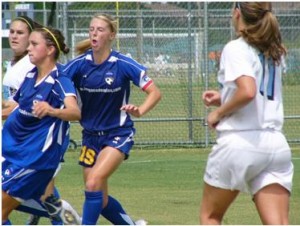 Hello, World!
My name is Sammie Thomas, and I'm from Colorado, but enrolled this year in the IMG Academy soccer program.
Down here at IMG, it isn't all about the glam. We are all talented athletes working out butts off every day just to improve. If you're reading this, then you may already know that we practice five days a week, have games every weekend, lift weights two days a week, work with IMG Academy Athletic & Personal Development programsmental conditioning experts once a week, educated about nutrition once a month, have optional vision training and communication training with game on, and do physical conditioning with IMG Academy Athletic & Personal Development programsexperts (Ya-Ya-Ya!!) five days a week, all while keeping our grades up - basically the best place ever!
Everyone here is an athlete, which makes it a very understanding environment. If you're cranky because of the headache Vision Training just gave you, or if you are too tired in the morning to do your hair or makeup because you stayed after practice to work on something, everyone gets it. Everyone understands everyone and there is a mutual respect for everyone here.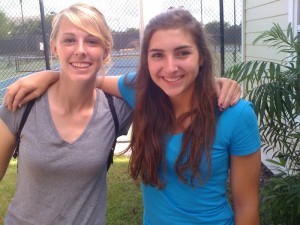 In my first weeks here I not only have improved my soccer skills and in-game modeling abilities , as shown in the top photo (haha) but, I have also made a lot of great friends!
All of us have our days when we get home sick, but that is just when we grow closer. We are one giant family, and no matter if we fight, have a language barrier, or are just plain sick as a dog, we are all there for one another. I remember just a couple weeks ago, I lost my headphones before a game and Carlye lent me her spare pair. Or when just the other day, I cooked pasta for Ray, or yesterday when we were doing sprints at the end of practice no one let anyone quit.
Life here is more amusing then you may think. Let's start with the day of registration - THANK GOODNESS for not giving me a crazy roommate. The relief of having a good roommate didn't last long, because the next day tryouts began. After a tough two weeks of tryouts, we were assigned to teams and told who would be the captains of each. I made the U-17 team and was made one of two captains, with the other being my bestest bud, Carlye.
Now you are up to speed. Basically, the only thing I haven't told you is that right now I am craving a bowl of pasta. So I guess that means I got to go. L8r y'all!