IMG ALL-MADDEN Profile: Kris Albarado
October 19, 2010
by: jclark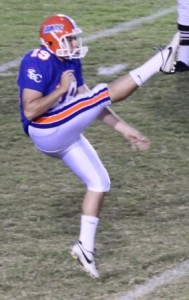 The IMG Academy football program released its first All-Madden Team back on August 23, 2010. One of those selections was a rather easy one for featured IMG Academy football program kicking instructor Brandon Kornblue.
Punter Kris Albarado (Lake Charles, LA/St. Louis Catholic HS/Class of 2011) earned the rights to be the first punter ever selected by demonstrating a high level ability to perform at the next level.
"Kris is without question one of the top punters in the class of 2011," Kornblue commented. "His technique is refined and consistent. Hang times were charted in the mid to high 4 second range. Because his catch-to-kick handle times were consistently under 1.4, Kris could contribute as a true freshman for a FBS school."
This season; his senior season; Albarado has punted in 6 of the first 7 games. Thus far, he has punted 756 total yards on 16 punts, average of 47.25. His season long is 65 yards, and he has punted 5 times inside the 20-yard line. He currently is averaging 47.0 yards per punt. Albarado is on pace to break the school's career record (previously 39.96) with an average of 40.6 yards.
Albarado has enjoyed a successful high school career having beaten season punt average records each of the past 3 seasons; all of which were held by former Tulane punter Ross Thevenot.
Below is a video profile presented by the IMG Academy football program: