IMG U14 opening season game report
November 09, 2010
by: IMGSoccer1
IMG - 7, Clearwater - 2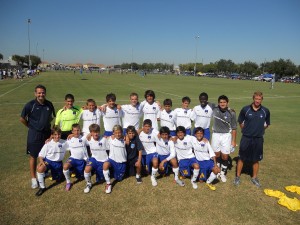 The 14s got their league season started on Saturday at Clearwater. The first half was not the best start, but the team turned it around in the 2nd half.
Even though Clearwater was dominating play from the start, IMG was able to get on the board first with a goal by Troy Gonzalez. Clearwater scored shortly after to tie the game at 1-1. IMG scored next with a goal from Kenny Shrimpton. But again, IMG was unable to hold on to the lead as Clearwater scored on a free kick outside the 18 to tie the game at 2-2, which was the score at halftime. Clearwater was the better team the first half...controlling play and creating more chances, which caused IMG to play overly aggressive and foul much more than desired.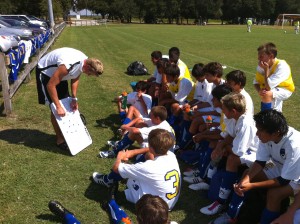 The 2nd half saw a more focused IMG team that controlled possession and shut down the Clearwater attack. Carlos Morales started the 2nd half scoring that developed from great buildup along the left side from Remi Pimm to Kenny Shrimption who then found Carlos Morales. Max Fuentes assisted the next 2 goals from crosses. The first to Ethan Lamb and the next to Remi Pimm. Christian Fiechtner scored the 6th goal of the day when he caught the keeper well out of goal and volleyed a first time shot from 30 yards out just under the crossbar and over the outstretched keeper. Carlos Morales finished off the scoring for the day on a breakaway beating the keeper and a defender on the goal line. During the scoring in the 2nd half, the back four and keeper (Max Fuentes, Ian McCauley, Nick Pennebacker, Sam Kuznicki, and Alejandro Flores) stayed very organized and kept most of the play on the attacking end of the field.
Overall, a good result and start to the league season.