Two juniors earn spot at IMG Academy Bollettieri tennis program!
November 29, 2010
by: Dan Tierney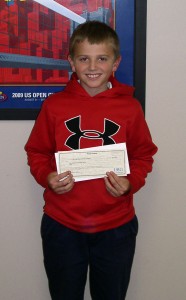 The call to action went out to all of the USTA Missouri Valley's most passionate 10-year-old tennis players:
Why do you like tennis? How do you utilize sportsmanship when playing? What are you doing to improve? What is your dream as a tennis player?
Click here (winning-essays-2) for the winning essays from Donovan Walsh and Landon Hover. For their efforts, both received a free week of tennis summer camp at IMG Academy Bollettieri tennis program. A sample:
"I can't remember a time in my life when I didn't like tennis. When I was a baby, my mom would take me to the tennis courts with her. When I got bigger, I wanted to play like my mom. I started playing on our driveway against the garage. I still like to do that...Tennis shows how smart I can think on the court. Tennis is a mental game. In tennis, I have the court all to myself and what I can do on the court matters."