First Under Armour Lacrosse Combine attracts more than 90 players
December 09, 2010
by: largeinc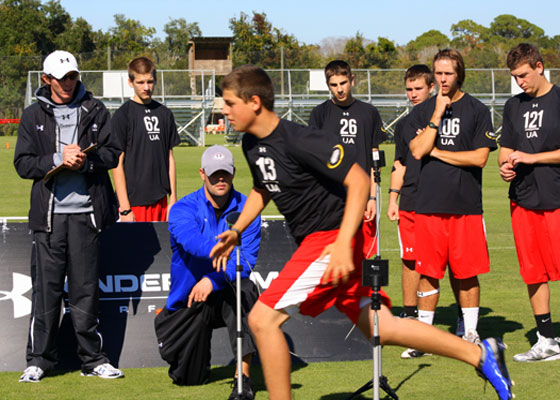 On Saturday December 4, more than 90 lacrosse players went through the first Under Armour Lacrosse Combine at the world renowned IMG Academy in Bradenton, Fla. The day featured both lacrosse instruction and athletic testing in an electric atmosphere powered by sponsors like Muscle Milk, Cytomax, and the nation's leading recruiting education provider, NCSA. All participants who underwent testing left with a full Combine360 (www.Combine360.com) score, illustrating their true athletic potential in the areas of athleticism, character and movement.
Participant scores can be viewed at: http://combines.underarmour.com. 
"The day could not have gone any better from start to finish," said IMG Academy lacrosse program Director Kevin Finneran. "Each lacrosse player that was on our field demonstrated tremendous drive, attitude, energy and passion."
Players received new Under Armour lacrosse and training apparel, while practicing on the new lacrosse fields at IMG Academy. With the introduction of Combine360 measurement and Combine Training, players learned the value of practicing in areas outside of shooting and passing in order to improve their overall performance. Noted Coach Finneran, "This valuable introduction combined with the expert instruction of our IMG Performance and lacrosse staff provided our participants with a new set of resources in helping them become the total athlete."
By merging the worlds of lacrosse and training, Under Armour and IMG are aiming to help mold the next generation of lacrosse players into a group of more complete athletes, on and off the field. Said Finneran, "There is no question in my mind that the lacrosse players who attended the Under Armour Lacrosse Combine at IMG Academy left the field as stronger, faster and more confident lacrosse players."
The Combine360 tests administered were new to many of the athletes on hand, but all walked away with an understanding of how they stack up against their peers across a number of disciplines and how to improve in specific areas. Participants are encouraged to visit www.Combine360.com for more information about measuring their progress using Combine360.
In 2011, Under Armour and IMG will continue to host multi-sport combines across the country in a combined effort to help coaches and athletes of all abilities reach their full coaching and athletic potential.