Lee Smith taking next steps toward NFL career
January 28, 2011
by: largeinc
Cite:
The Herald-Dispatch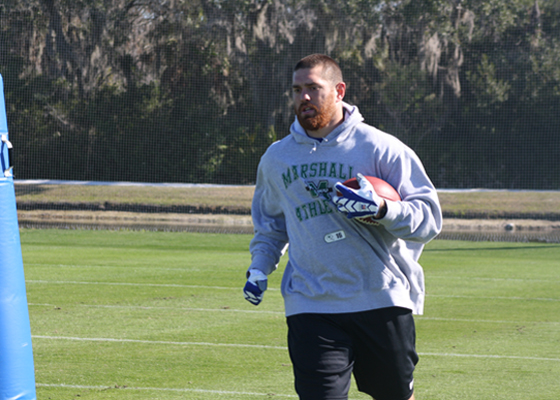 HUNTINGTON -- Lee Smith stopped to apologize.
After going on a 1 minute, 30 second response to a reporter's question, which included seven references to himself in the third person, Smith simply paused.
Politely, the former spokesman of Marshall University football took a deep breath and uttered, "I'm sorry for talking this way. I'm just talking as he would talk."
"He" is Steve Shenbaum, a one-time Hollywood actor turned communications guru playing a crucial role in Smith's life these days. He's fine-tuning Smith's gabbing skills, a minor detail in the tight end's major ride toward his next career goal.
And Shenbaum's not the only one aiding this journey.
There's Chris Weinke, Loren Seagrave, Trevor Moawad and Jeff Dillman, among others.
Call them Team Lee. Their location: IMG Academy, Bradenton, Fla. Their mission: Get Lee Smith ready for the NFL Combine, get Lee Smith's name called on NFL Draft day.
Today, he'll compete at the Senior Bowl in Mobile, Ala., but that's just one chapter in Lee Smith's post-Marshall story.
THE SUGGESTION, THE DECISION AND THE 'VERBAL BEATING'
Four months prior, it wasn't in the cards for Smith to be having so much free time in late December.
All serious draft talk was supposed to be postponed to a later date.
As the incumbent captain to a Marshall football team that was coming off its best season in five years, the 6-foot-6, 270-pounder had his sights on Memphis, where the Conference USA champion was to play in the Liberty Bowl on New Year's Eve against a Southeastern Conference opponent before a nationally televised audience.
But, as fate would have it, the Thundering Herd never got there. Never got anywhere in the postseason, actually.
The last time Smith strapped on his signature No. 16 kelly green and white jersey would prematurely come on Nov. 27 when he caught one pass for 15 yards in a 38-23 Marshall win over Tulane at Joan C. Edwards Stadium.
Shortly thereafter, Smith moved his wife, Alisha, and two children, Brody and Amanda, from Huntington back to their hometown of Powell, Tenn.
"I did it so she could be around her family and friends," Smith said. "And the babies could be around family and friends."
But for Smith himself, he wouldn't be there long.
After all, it was late December. It was time for football again.
Enter a suggestion from agent Dave Butz. He wanted his client to take a peek at IMG Academy in Bradenton, some 715 miles from Powell.
"He wanted to see if I liked it or if I thought it was a little weird being so far away from Alisha and the babies," Smith said. "So I came down two weeks before Christmas since we didn't make it to a bowl game this year. I knew that this was where I needed to be, with everything they had to offer.
"I just felt it was best for me and my family's future as far as football goes.
"I took a verbal beating from the wife, but I went."
Shortly before New Year's Day, Smith arrived on the plush grounds of IMG -- aka 400 acres of an athletic paradise and an absolute springboard to the next level.
With top-notch facilities and a staff swimming in their own eye-popping resumes, it comes as no wonder that this place has helped produced some of the best NFL talent in recent years.
Drew Brees, Eli Manning, LaDainian Tomlinson, Heath Miller -- all products of IMG.
"The only player that I can think of that we didn't get drafted in the last 10 years is Tony Romo," said Trevor Moawad, IMG's director of performance, who also trained former Marshall stars Chad Pennington and Byron Leftwich. "And he ended up, obviously, being pretty good."
Fourteen IMG participants were taken in 2010 NFL Draft.
The daily grind and a star-studded cast
Smith is among 21 former college stars in this year's IMG class.
On a day-to-day basis, he gets to knock heads with the likes of Anthony Castonzo, a 6-7, 308-pound projected first-round offensive tackle selection from Boston College; Mark Herzlich, a linebacker and another former Boston College standout who survived a rare form of bone cancer to play his senior year; and Rodney Hudson, a 6-2, 282-pound three-time All-American offensive guard from Florida State, among others.
They all have talent, their own unique backgrounds and their own drive to make it to the NFL Combine and the NFL Draft in the best shape possible -- physically and mentally.
At IMG, that means 12-hour days.
"We'll get up about 6 every morning," Smith said. "All the guys will eat breakfast at 6:30 and then once we're done, we'll come over to the weight room and stretch and warm up.
"And then we'll have a lower body running, explosive session for about an hour and a half with Loren Seagrave. He knows his stuff, man. He's the real deal.
"After that, we have position-specific coaching and Chris Weinke is the guy that I work with every day. We run routes and then, if I want, I'll join the O-line for a little bit.
"Then we eat lunch and then after lunch, we do our workout, which is a typical workout. Like what we do in college. We just hit the weights.
"Then, at about 3 o'clock every day is when we do our communication or vision training or Wonderlic testing, all that good stuff to prepare us for the Combine as far as the mental aspect. We have sports psychologists here on campus to help with that.
"Then after that, you go to dinner, swing by the weight room, get a little extra stretch in before you go to bed.
"It's about 6 to 6 every day. Getting after it."
And those who guide this daily grind? Consider them a dream team for NFL preparation.
First, there's Seagrave, a world-renowned innovator in the field of speed training. He's trained multiple first-round NFL Draft picks and more than 50 Olympic medal winners.
Then there's Jeff Dillman, the former strength and conditioning coach at multiple NCAA Division I-AA national champion Appalachian State.
Then there's Moawad, the performance director who has received worldwide acclaim for his involvement in the field of mental conditioning. He serves as the mental conditioning consultant for more than 20 NCAA and professional sports organizations, including the University of Alabama and the Jacksonville Jaguars.
Then there's Steve Shenbaum, a trained actor and comedian (past gigs include the film American Pie 2 and sitcom Will & Grace) who now specializes in communication/media training with athletes.
Then, finally, there's Weinke, the former Heisman Trophy winning quarterback from Florida State who also spent seven years in the NFL.
Embracing the past, improving the future
Forget his 6-6, 270-pound body. Or his tremendous blocking ability. Or his occasional very sticky hands.
Shenbaum feels what will stick out the most about Smith to an NFL general manager at the Combine in late March in Indianapolis is his family background. A wife, two kids -- all at the age of 22, all coming while in college.
"It's a huge advantage," he said. "If I'm a potential employer, I'm looking at it as I'm hiring a man who has responsibilities and priorities in order. ... I told him, 'Lee you have to own that. You have to embrace that. And you have to use that as proof that you're kind of wise beyond your years and you've had life experiences that allow you to put things into perspective.'"
Smith has taken notes.
"Steve's teaching me exactly how to handle those questions when I get to the Combine," he said. "Like, how did you do it with a family? Or, why did you decide to have a family? Or, if you could go back, would you do it any other way? How to handle all those types of questions and how to prove that when draft day comes around, there's not any character questions with Lee Smith. That he's the same 'ole guy. That his family's the most important to him. But at the same time, he loves playing ball. And he's going to work hard. And do everything he can to be the best football player and the best person he can be."
The folks at IMG even feel as though Smith's 2006 DUI arrest and consequential dismissal from Tennessee can be turned into a positive when brought up in NFL interviews.
"Making mistakes is not the issue," Moawad said. "Sometimes they like the fact that you've made mistakes, it means you understand life. You've had some life experiences -- it's all about how you respond. It's really going to be less of what he did and more about what they (the NFL) think he can be going forward."
The uphill battle
The Senior Bowl practice reviews have rolled in and they've been mixed concerning Smith.
"Lee Smith, a tight end from Marshall, is a powerful blocker," writes Gerry Fraley of the Dallas Morning News. "Smith ran over a series of linebackers in drills."
"He's not going to run real well and lacks the ability to consistently separate in man coverage, but Marshall tight end Lee Smith can really get after it in the run game," writes Wes Bunting of the National Football Post.
"Marshall TE Lee Smith is stiff and slow off the line, but he has a big frame, long arms and can snatch the ball out of the air," says ESPN's Todd McShay.
When analyzing draft boards, Smith ranks somewhere in the 9-12 range in terms of this year's tight end class.
In 2010, 20 tight ends were taken.
In other words, Smith grades out in the middle of the pack, a spot that suits him just fine.
"You've got these first-round guys and then you got guys that, like in my situation, are maybe a little lower on the quote, unquote board," said Smith, whose father Daryle spent six years as an offensive lineman in the NFL. "And, you know, it does drive you.
"But at the same time, my goal is to get to the NFL and be able to play football and take care of my family -- regardless of what round it is.
"If everybody else down here (at IMG) goes in the first round and I go in the seventh, it's still a great opportunity to take care of my family."
For Weinke, who spends three hours a day with Smith and calls him the most "coachable" of his group and compares him to former Carolina Panthers tight end Kris Mangum, he's certain that opportunity will open up.
"He's really become a guy that I would trust, from a quarterback standpoint, in terms of catching the football," Weinke said. "The short of it is the guy's accountable. And I always look at it through the quarterback's eyes and he's a guy that I can count on."
That's funny because Lee Smith has been counted on a whole lot recently.
As a husband. As a father. And now, for his next challenge, he wants to be counted on as an NFL player.
"Lee Smith can do it," Smith said.