2011 NFL Draft: Interview With Jalil Brown, DB Colorado University
February 02, 2011
by: largeinc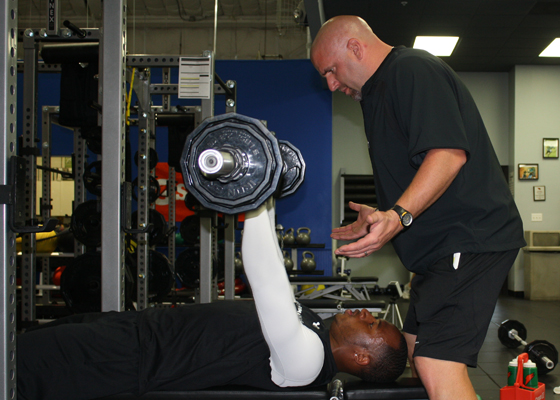 The 2011 NFL draft is fast approaching, and prospects are doing everything they can to raise their stock.
Among those prospects is Jalil Brown, who played defensive back at Colorado University.
According to OptimumScouting.com, Brown was, "[o]ne of the busiest guys in Mobile with teams attacking him with pretty consistent questions and interviews. He looked smooth in coverage and has the size to be a press coverage cornerback. In our opinion, he's a better prospect than Jimmy Smith, fellow Buffalo cornerback, but is still a third-round value. Still, he likely won't fall out of the Top 40 picks."
Brown has been training at the Athletic & Personal Development program, where he is receiving not only position-specific training and physical conditioning, but also instruction in nutrition, communications, interview training, mental conditioning and vision training (the same fighter pilots use).
He eats, sleeps, and trains on their 400-acre campus, which nestles three track fields, run hills, and more.
Brown participated in the Senior Bowl just under a week ago, and mentioned how much fun it was to train with and line up against players that are considered some of the top prospects in the country heading to the NFL.
"Rashad Carmichael was my roommate, and being around him sparked effort out of me even when I was tired. Practicing with and going one-on-one with great caliber players from across the college ranks definitely brought out the best in me."
That extra effort could go a long way in raising his draft stock. And if he thought he was surrounded by high-caliber at the Senior Bowl, he's in for a real treat in the NFL.
That competitive nature is an attribute that won't show up on any stat sheet or any time clock at the combine.
Speaking of the event, we also talked a bit about how ironic it is that the combine goes so far in determining a player's draft value.
"Me and the guys were just talking about that the other day. You spend your entire life playing football and then so much of your future hangs in the balance on drills and sequences."
Some people talk about how the combine isn't an accurate measure of talent because it's just players working out in shorts, not playing football. Yet somehow, it can be millions of dollars worth of a difference.
But of course, all this is just a means to an end.
The final test at IMG Academy isn't located anywhere on the 400-acre campus; it's out on 32 NFL football fields. There are a few steps Brown can take to prepare himself for the transition from college to pro, and he feels up to the challenge. "Basically, it comes down to improving my technique, both physical and mental. Watching film, understanding my strengths and weaknesses."
Strengths? Brown's got plenty of those. When I asked him what sets him apart from other defensive backs, he said, "I think my size sets me apart. There aren't a whole lot of NFL cornerbacks who are over six feet tall and over 200 pounds. I have the same or better speed and agility as guys who are smaller than me, but I'm really a press corner first. I want to make it a long game for the receiver I'm facing.
"I want to be successful in the NFL, and I won't let anything stand in my way."
At 6-0 and 203 pounds, I won't stand in your way, Jalil.