Weekend Wrapup - IMG U14s vs. RSL Florida
February 08, 2011
by: IMGSoccer1
IMG U14 - 3, RSL Florida - 0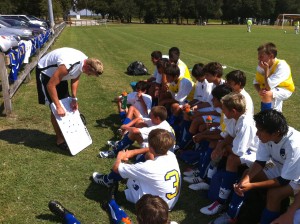 The 14s traveled to Tampa on Saturday to take on RSL. IMG got off to a good start creating several good chances in the first 20 minutes. Giovany Alcocer and Christian Fiechtner were able to combine getting Giovany up the wing often serving nice crosses in the box. Luca Fischer, Victor Rey, and Rajmond Laski had strong strikes on goal, but unable to convert. In the 25th minute, IMG broke through. Kenny Shrimpton took the ball up the right side and drilled a cross to the back post finding Remi Pimm for a tap in. IMG keeper Jorge Abuin kept the team organized in the 1st half to maintain a clean sheet going into halftime.
The 2nd half saw IMG continue to dominate in the possession and create numerous chances. Troy Gonzalez solidified the midfield, helping the team create a good rhythm of play. Midway through the half, Max Fuentes played a cross from the left side into the box. Kenny Shrimpton 'dummied' it, leaving it for Sam Kuznicki who volleyed it left footed with power past the RSL keeper. After this goal, there was a stretch of about 5 minutes where RSL had a couple good chances to score. But Ian McCauley, Nick Pennebacker, and keeper Alejandro Florez were able to recover and keep the ball out of the net. After this stretch, IMG regained control of the game. In the last minute, Ethan Lamb found himself with time to set up and crack a 25 yard laser to the upper 90. Another quality win for IMG on the road.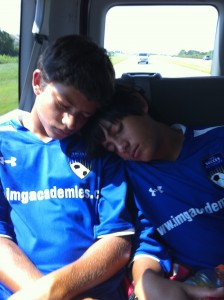 Assistant coaches / inured players Nabil Brache and Roy De La Maza were instrumental in guiding and supporting the team from the bench to a great win.
Next game for the 14s is 10:30am this Saturday (2/12/11) vs. West Florida Premier at Strictly Soccer.