MAC now a badge of honor for Bellore
February 20, 2011
by: largeinc
Cite: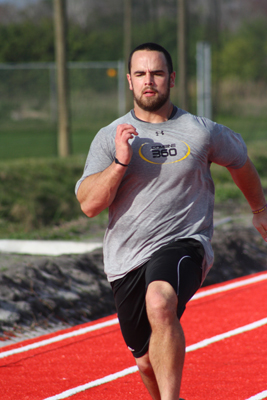 Nick Bellore should head to the NFL scouting combine in Indianapolis this week with no worries that playing at a so-called "mid-major" college will carry a stigma in his attempt to impress the scouts.
Starting at linebacker for four years at Central Michigan of the Mid-American Conference ought to be a bold-type entry on Bellore's resume.
And so is the MAC's growing reputation for sending players to the NFL.
"You look at the numbers, especially in the Super Bowl," Bellore said in a telephone interview from Bradenton, Fla., where he has been training at the IMG Academy since mid-December. "All the quarterbacks on the Steelers' roster are from the MAC.
"I still think there is a little bit of a small-school stigma attached there that I think will always be there, no matter how many guys we had in the biggest game – or how many games we won at Central.
"It's a stage we're put on. I think we do all right."
Bellore's statistics at Central Michigan were more than all right. He had a string of 51 straight starts for the Chippewas, and three seasons in which he had 100 or more tackles and made the all-conference first team.
Super Bowl XLV was a showcase for MAC players. The Green Bay Packers had a MAC-and-Cheesehead attack in their 31-25 win over the Pittsburgh Steelers.
Eight MAC players were on Green Bay's Super Bowl roster, including three from CMU. Rookie linebacker Frank Zombo and veteran defensive lineman Cullen Jenkins are starters. Rookie defensive back Josh Gordy was not active for the Super Bowl.
The Steelers had five MAC players, with one Chippewa – wide receiver Antonio Brown.
Two Steelers stars played at MAC schools: quarterback Ben Roethlisberger (Miami of Ohio) and linebacker James Harrison (Kent State). Greg Jennings, the Packers' Pro Bowl receiver who caught two TD passes in the Super Bowl, played at Western Michigan.
Bellore, from Whitefish Bay, Wis., graduated early with a degree in finance. He knows how to read numbers, and that makes him a realist about how scouts and front-office executives might question the MAC's level of competition compared to power conferences such as the Southeastern Conference and Big Ten.
Bellore has a chance to enhance his stature at the combine and other offseason events before the draft in late April.
The combine might best be characterized as a job interview in undershorts for some 300 draft-eligible players. Bellore has been preparing for it for more than two months. He flew to Bradenton the day after he graduated from CMU in mid-December.
Based on some early evaluations, Bellore appears to be rated in the range of a fifth-round prospect, give or take a round. At 6-foot-1 and 250 pounds, he projects as a pure run-stuffing inside linebacker.
Bellore's senior year was his only losing season at Central. The Chips went to three straight bowl games and beat Michigan State in 2009 before sliding to 3-9 and 2-6 in the MAC in 2010.
"Obviously, I would have liked to have a much better senior year," he said. "It's an unbelievable place. Both the school and football were tremendous. You ask, in this whole process if I could do it over, would I play in a different school? The answer is 100 percent no."
Bellore has been working out twice daily in Bradenton, six days a week, with about 20 other prospects to prepare for the combine and other events that can enhance his draft status.
When he is finished at the combine, he'll go to Mt. Pleasant and train for his pro day workout there on March 14.
The immediate focus is the combine, with the physical tests, meetings with team executives and a thorough physical exam.
"It's a long process of a lot of stuff that isn't typically associated with the combine," Bellore said. "There are a bunch of medical tests, a bunch of interviews and meetings. I just prepare myself for being up early, having to go to bed late and not having ideal circumstances for testing.
"It's more set up as an extremely long job interview. It's about as tough as it gets mentally and physically.
"I'm preparing myself mentally for the fact that it will be kind of draining before we actually get to run and do all that stuff."
Bellore got a preview of what to expect when he played in the East-West Shrine game in Orlando last month.
Bellore has fielded some unusual questions, to say the least.
"I've been asked if I'd rather be a cat or a dog," he said. "I said a dog. I didn't explain why. It has to mean something.
"The questions were on a questionnaire. One was if your team ever punted the ball on first down, yes or no.
"I wasn't quite sure about that one. I said no, obviously. Maybe they want to see if paying attention."
Obviously, he was.