Daniels to participate in National High School 3-Point Shootout
March 31, 2011
by: ksobash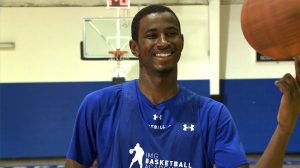 Several of the best high school basketball players from around the country will descend upon the Berry Center in Houston, Texas this Friday to take part in the National High School Dunk and 3-Point Championships.
Highlighting the group of college prospects is DeAndre Daniels of theIMG Academy basketball program. Daniels, the No. 9 prospect in the country according to Rivals.com, will be a participant in the 3-point contest. He will be competing against top recruits from schools such as Texas, Oklahoma State, and Mississippi. He remains the nation's most desired unsigned recruit, drawing interest from basketball powerhouses such as Duke, Kansas, Texas and Kentucky.
The event is scheduled for Friday, April 1st at 7:00 p.m. CST, but will be aired on CBS at 4:30 p.m. EST on April 3rd.
Good luck DeAndre!