Teddy Tetak: The Next Tiger?
April 15, 2011
by: hpellew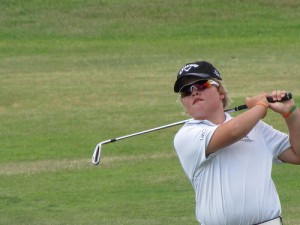 IMG Academy golf program student Teddy Tetak looks like every other eleven year old, but what separates Teddy from his peers is his love for the game of golf. A native Slovakian, Teddy now lives in Florida in hopes of further enhancing his chances of becoming a future professional golfer. I sat down with Teddy to get his thoughts on golf and the differences between living the U.S. and Slavokia.
When did you begin golfing?
"I started playing golf when I was six years old as a hobby, but I didn't have a coach until I went to England for two months to train. After that I attended the Leadbetter academy in Austria and that's when I realized that I wanted to be a professional golfer."
Who got you into golf?
"My dad wanted me to play golf because hedidn'twant me to get hurt playing soccer. There's always risk when you play sports, but I'm less likely to get hurt playing golf and I really like to play golf, so it was a good decision."
Do you play any other sports right now?
"I swim a lot. When I'm not playing golf I enjoy swimming."
What you like to do when you are not playing golf?
"I like to watch TV or go swimming."
How long have you been attending IMG Academy?
"I'vebeen attending IMG Academy for four year."
Is golf a popular sport in Slovakia?
"Golf isn't really popular in Slovakia because everyone loves soccer."
What's the biggest difference between living in U.S. and Slovakia?
"I think the biggest difference between Slovakia and the U.S. is that I have more of an opportunity to play golf. In Slovakia, there aren't many courses for me to play on, but in Florida, there are courses everywhere and I can play all year round here because it gets cold in Slovakia."
What do you feel is your greatest achievement in golf so far?
"I think my greatest accomplishment in golf so far is shooting two under par and winning the Slovakian championship."
What you want to be in the future, other than a professional golfer?
"If I wasn't a professional golfer, I would like to be a business manager like my dad."
Who is your favorite golfer on Tour?
"My favorite golfer on tour right now is Rickie Fowler."
What are your plans for the summer?
"I'm going to go back home to Slovakia for a little bit and I'm going to play in a couple of golf tournaments."