IMG creates IMG Academy football program 7-on-7 Championships Presented by Under Armour
April 19, 2011
by: largeinc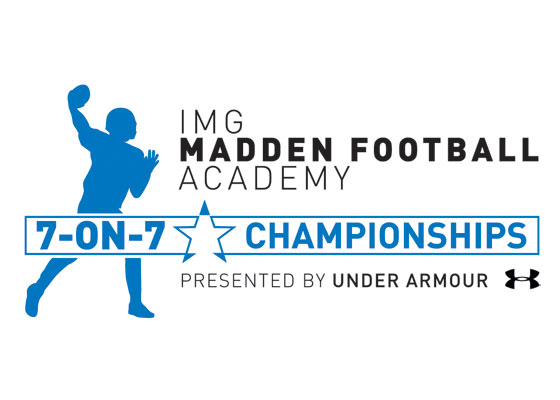 BRADENTON, Fla. (April 20 2011) – IMG Academy and Under Armour, Inc. are bringing together the nation's top performing 7-on-7 all-star football teams for the inaugural IMG Academy football program 7-on-7 Championships Presented by Under Armour on June 25-26, 2011. Sixteen elite teams will compete in a first-class competition at the country's foremost training and education complex located across 400 acres in Bradenton, Florida.
"We look forward to staging a 7-on-7 event unlike any other available today for the dedicated high school player," said Chris Weinke, Director, IMG Academy football program. "As a leader in coaching and performance training, along with football performance leader Under Armour, we are poised to create a memorable experience for players and coaches both on and off the field."
Beyond the competition, players and coaches will hear from leading performance experts as it relates to IMG's TOTAL ATHLETE™ approach to training – a 360-degree training method that includes disciplines like mental and physical conditioning, nutrition, vision training, communication and more. Teams will also be exposed to Combine360, a new global measurement tool that creates a benchmark and customized recommendation for improving performance.
Additionally, participants will receive education in dynamic stretching and football-specific mental conditioning, as well as invaluable recruiting information presented by the National Collegiate Scouting Association (NCSA).
Under Armour will outfit all participating teams. "Through our partnership with IMG Academy we're dedicated to providing young athletes with best-in-class performance apparel, footwear and accessories, as well as a platform designed to help make them better," said Bill Hampton, Senior Director, Pro Leagues, Under Armour. "This comprehensive event will allow athletes to showcase their talents and also learn about the training techniques and off-the-field skills that will help them reach their goals."
Additional sponsors include Gatorade, Power Balance, NCSA and the Sarasota Convention & Visitor's Bureau.
Several elite squads have already committed to the event, including the West Tennessee Express featuring Under Armour and U.S. Army All-American speedster Brian Kimbrow and U.S. Army All-American Nate Cole Jr., as well as the South Florida Express led by esteemed Coach Brett Goetz. This four-year running South Florida program also features some of the nation's top players, including current Under Armour All-American RB Duke Johnson and U.S. Army All-American CB Tracy Howard.
For registration and hotel information, as well as a complete schedule, please visit: www.imgmadden7on7.com. 
About IMG Academy
IMG Academy, located in Bradenton, Fla., is the world's largest and most advanced multi-sport training and education complex dedicated to developing the TOTAL ATHLETE™.  For more than 30 years, IMG Academy has helped countless youth, adult, collegiate and professional athletes reach their full potential in sport and life, by providing expert coaching, tailored programs and world-class facilities within an energetic environment across a 400-acre campus.
Today the campus attracts more than 20,000 athletes from 100 countries annually. The Academies consists of the IMG Academy Bollettieri tennis program, IMG Academy golf program, IMG Academy football program, IMG Academy baseball program, Basketball, Lacrosse and Soccer academies – all supported by the IMG Academy and Athletic & Personal Development program's multi-faceted training disciplines. IMG Academy also conducts camps, clinics and events year-round, while providing support to teams and federations around the world. Find more info at www.imgacademy.com. 
About Under Armour 
Under Armour® is a leading developer, marketer, and distributor of branded performance apparel, footwear, and accessories.  The brand's moisture-wicking fabrications are engineered in many different designs and styles for wear in nearly every climate to provide a performance alternative to traditional products.  The Company's products are sold worldwide and worn by athletes at all levels, from youth to professional, on playing fields around the globe.  The Under Armour global headquarters is in Baltimore, Maryland, with European headquarters in Amsterdam's Olympic Stadium, and additional offices in Denver, Hong Kong, Toronto and Guangzhou, China.  For further information, please visit the Company's website at www.underarmour.com.
#  #  #
Contact:
Kim Berard, IMG Academy, kim.berard@imgworld.com, 941-752-2621