IMG Reliance student-athletes forge bond with community through Special Olympics
April 25, 2011
by: largeinc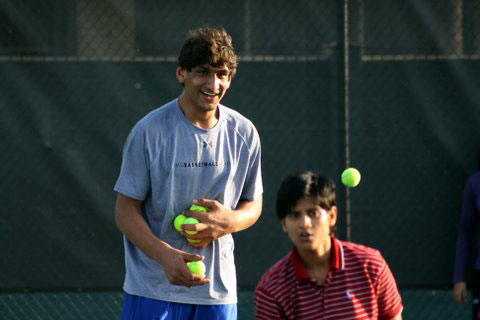 BRADENTON, Fla. (April 26, 2011) – A number of young Indian scholars attending IMG Academy as part of the IMG Reliance Scholarship Program are embracing a new relationship with the Special Olympics Manatee County. The Special Olympics affiliation is among a number of new area connections for IMG through its community outreach initiative, which provides students and staff a collective opportunity to give back to a community that has provided IMG Academy with a home base for decades.   
"With one of the most diverse student bodies in the world, we are always searching for ways to bring our student-athletes closer to one another and to their home-away-from home here in Bradenton," said Ash Ghaffari, Director, Student Services, IMG Academy. "This new relationship with Special Olympics has already shown itself to be a favorite among our students from India."
"We've started a great relationship with IMG Academy," echoed Pamela Fazio, Special Olympics Manatee County. "Their students love to come out and help our athletes at practices. It gives the students an opportunity to learn how to help athletes with intellectual disabilities. While they are currently hosting our tennis practices twice weekly, we look forward to building our relationship."
Twice weekly a group of Special Olympians of varying ages arrive at the world-renowned IMG Academy Bollettieri tennis program for a fun and engaging tennis session led by IMG students. Reflective of IMG's diverse student body, the group features students hailing from countries around the world, and is led by the IMG Reliance scholars.
Twelve-year old IMG Reliance student and aspiring tennis player Nandini Das has quickly emerged as the natural leader of the group. Das, who was hand-selected to take part in the IMG Reliance program by legendary tennis coach Nick Bollettieri and his coaches, said: "It makes me so happy to interact with them. They face challenges and tennis is something we do every day so we can impart our learnings while having fun." Fellow Indian tennis player Ojasvinee Singh said, "I like coming out here because it feels good to share with someone who does not have everything we have. I want to give them more and make sure they leave with a good experience and feel good about themselves."
Das and Singh are joined in these collaborative sessions by members of the girls' and boys' basketball teams at IMG, as well as members of the U15 Indian National Team who train at IMG full-time.
About IMG Academy
IMG Academy, located in Bradenton, Fla., is the world's largest and most advanced multi-sport training and education complex dedicated to developing the TOTAL ATHLETE™.  For more than 30 years, IMG Academy has helped countless youth, adult, collegiate and professional athletes reach their full potential in sport and life, by providing expert coaching, tailored programs and world-class facilities within an energetic environment across a 400-acre campus.
Today the campus attracts more than 20,000 athletes from 100 countries annually. The Academies consists of the IMG Academy Bollettieri tennis program, IMG Academy golf program, IMG Academy football program, IMG Academy baseball program, Basketball, Lacrosse and Soccer academies – all supported by the IMG Academy and Athletic & Personal Development program's multi-faceted training disciplines. IMG Academy also conducts camps, clinics and events year-round, while providing support to teams and federations around the world. Find more info at www.imgacademy.com. 
About IMG Reliance
In 2010 Reliance Industries Limited (RIL), India's largest and most recognized private sector company  headed by Chairman Mukesh Ambani, and IMG Worldwide (IMG), the world's leading sports marketing and management company  headed  by Chairman and CEO Ted Forstmann, announced the formation of an equal joint venture to develop, market and manage sports and entertainment in India.  The joint venture company, IMG Reliance Pvt. Ltd., will provide and operate first-class infrastructure and coaching facilities in the country to unlock India's sporting potential and to create and operate major sports and entertainment assets in the country.  In its first initiative, IMG Reliance entered into an agreement with the Basketball Federation of India (BFI) to create a new professional basketball league and manage all aspects of the commercial rights to the game in India. IMG Reliance has also created a scholarship program to identify and train talented young Indians from three sports - basketball, soccer and tennis – at IMG's world-class sports training facilities at IMG Academy in Bradenton, Florida.
#  #  #
Contact:
Kim Berard, IMG Academy, kim.berard@imgworld.com, 941-752-2621