Katie Spivak: The Future of Tennis
April 28, 2011
by: hpellew
Katie Spi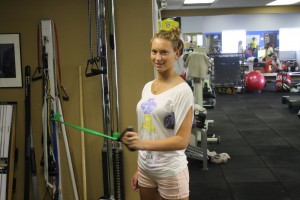 vak attends IMG Academy by way of Ontario, Canada. Her hard work on the tennis court has put her on the fast track to becoming a very good tennis player. Although Katie experience a minor setback this semester by suffering a wrist injury, that hasn't been able to knock her off her path to strive for continued excellence. Katie continues to diligently rehab, while keeping an eye on her return to the tennis court.
Where are you from? Where did you attend school before attending IMG?
I'm from Ontario, Canada and I attended St. Thomas Aquinas for grades 9 and 10, and attended IMG Academy for grades 11 and 12.
Why did you choose to come to IMG?
I chose IMG because of my familiarity with the academy, the coaches, and the programs they run. I've been attending short time camps at IMG since I was 5 years old, so there was an established comfort level there.
How was your tennis season?
I started off great, but I had a rough second semester because I had surgery on my wrist because I had a torn ligament, so I can't play for three months. Right now, I'm just focused on doing my rehab to get my wrist stronger so when my doctor tells me I can hit again I'll be prepared to get back on the court right away.
What was your most memorable tennis moment this past year?
My most memorable moment from this year was winning my tennis match in the top group. I needed to win that match and wasn't sure how I would do, but once the match started I killed her.
Why do you think you were able to beat her so easily?
I think I was able to beat her because of the training I receive at IMG. I trained really hard last year and this year before I got hurt to get to that point and my hard work payed off with me finally getting into the top group this year.
What do you do at IMG that your weren't able to do at your previous school that took you to that next level and prepared you to compete against the top group girls?
I think IMG is great. They have the facilities here and great coaches. I'm able to practice every day and strengthen my overall game. When I'm on court the coaches can strategize with me and the coaches can stand behind me while I hit and make corrections. The training I'm receiving here is completely different that the training I was receiving at home because all the coaches would do is feed me balls and we wouldn't play any matches, but at IMG I'm able to play matches 24/7 and its really helped my overall game.
How would you describe your experience at the academy?
I love it. It's a great experience. I've been coming here since I was five years old and I keep coming back, so there doing something right. I enjoy the whole atmosphere.
How would you describe a typical day for you at the academy?
My day typically starts at 7am every day. From 7-10, I work on tennis, from 10-1, I do performance training at IPI, then I go to school from 1-5, and after school I usually hit some balls.
What some things you enjoy doing when you're not training?
I like to the beach with my friends and hangout on campus. They have a lot of fun games here and just hang low.
Do you play any other sports?
I did play all the high school sports in grade 9 and 10 because my mom and dad wanted me to have that experience, but now I'm focused on tennis.
Who is your favorite professional tennis player right now?
I love Maria Sharapova because she trained here and I love her attitude towards the game and how clean her strokes are.
Other than a professional tennis player, what other profession can you picture yourself in some day?
I would probably become a teacher. I really like English, so I would probably become an English teacher.
What are some of your future goals going forward?
My goals are to stay at IMG for a post grad year, get into a top college, and stay healthy for the whole year so I can continue to improve.
What are your plans for the summer?
I can start hitting in June, so I'm excited for that. I'm going to be training and traveling this summer, and then I'll be back at IMG in the fall.