Bruna Correa: Quiet Storm
April 29, 2011
by: hpellew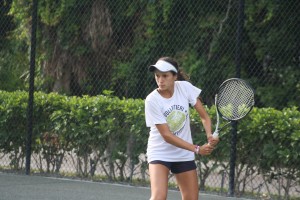 Bruna Correa is a quiet, unassuming student currently attending IMG Academy Bollettieri tennis program, but on the tennis court she is a fierce competitor. Bruna is just beginning to tap into the enormous amounts of potential she has a tennis player and training at IMG is enabling her to realize her full potential.
Where are you from? Do you have any siblings?
I am from Belo Horizonte, Brazil and I have a twin sister and one older sister.
Does your twin sister attend IMG too?
No, my sister doesn't attend IMG. She doesn't really play any sports.
How was your tennis season?
My tennis season has been going really well so far. I've been getting better playing against better competition and playing in a lot of tournaments.
What was your most memorable tennis moment this past year?
My most memorable moment from this past year was winning the Super Series tennis tournament in Sarasota. I played really well throughout the tournament, so I was excited to win it.
How would you describe your experience at the academy?
It's amazing. I get a chance to play a lot and the coaches are ten times better than anywhere else. Being here has been fun for me because I get to as much as I want and the coaches are always there to help. I also learn a lot about other cultures at the academy, not just about American culture, but different cultures around the world. Just being at the academy gives me a chance to experience a lot of different things that I wouldn't have the opportunity to experience in Brazil.
How would you describe a typical day for you at the academy?
I start at 7AM and I practice until 10AM. From 10AM to 11AM, I do performance training at IPI. From there, I attend classes from 1PM to 6:20PM.
What is the biggest difference between living in the US versus living in Brazil?
I think the biggest difference living here at IMG versus living in Brazil is there are people here from all around the world. There's more opportunity here versus being in Brazil.
What some things you enjoy doing when you're not training?
I like to hangout with my friends and play the guitar.
Do you practice playing the guitar a lot?
I use to play a lot before I got to IMG, but I don't have a my own guitar here at IMG so I haven't been practicing as much.
Do you play any other sports?
I played soccer a lot before I started training to play tennis.
Who is your favorite professional tennis player right now?
I like Novak Djokovic. I like him because a lot of people are in between whether they like Nadal or Federer, but I like him because of how he started outside of the top 10 and improved to become one of the top players in the world.
Other than a professional tennis player, what other profession can you picture yourself in some day?
I could see myself doing engineering or something in business. I don't really know why, but I can just see myself doing it and maybe because I really like math.I'm going to continue to train at IMG for the next 3 years, so I can get to a division one school. I want to play tennis in college, so I'm going to continue to work hard so I can reach that level.
What are your plans for the summer?
I'm going to play in two tournaments this summer and spend some time in Brazil and relax before coming back to IMG in the fall.