IMG Academy basketball program Forward Bernado Guitron Commits
IMG Academy basketball program senior Bernardo Guitron has committedto Adelphi University. Head Coach Vince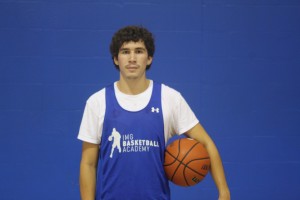 Waldendescribes Bernardo as "a tough,hard nosedkid. He is the perfect example of a true team guy, just someone with a lot of character".
Bernardo expressed hisdecisionto commit to Adelphi in saying"I Committed to Adelphi University because it's a very good school and I established a good relationship the coach. My relationship with the coach of Adelphi and with the help of Coach Vince Walden made my commitment to Adelphi and easy decision to make."
Coach Vince Walden shares in this experience with Bernardo Guitron in saying,"We are all excited to have Bernardo Guitron commit to joining the men's basketball program at Adelphi University. Bernardo is a smart kid, who has a focus to be in the business world and Adelphi has one of the best business schools in the north east. He will be playing for a great mentor and a good friend of our program in Dominick Savino, who is returning a great core group of players who competed in the NCAA Division II tournament this past year. We wish Bernardo great success and best wishes. He will always be a part of our program and I know he will be back during the summers to continue to work on his overall game."
IMG Academy wishes Bernardo Guitron the best of luck in all of his future academic and athletic endeavors as he embarks on his next journey.