Flyers land 6-9 French recruit
May 11, 2011
by: largeinc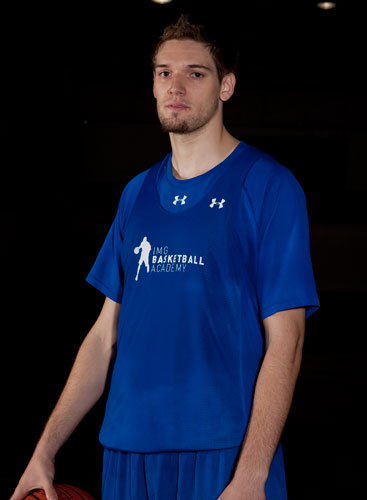 Alexandre Gavrilovic considered putting off his college decision until he returned from a month-long visit to his home in France, giving him time to make more official visits.
But he was intrigued by one scholarship offer in particular and wasn't sure it'd still be on the table when he returned.
"If I lose Dayton, I don't want to do that. Dayton is a great place," he said.
The 6-foot-9, 230-pound forward from IMG Academy in Bradenton, Fla., became the first recruit for new UD basketball coach Archie Miller on Thursday, choosing the Flyers over Towson, Texas Tech and SMU. And he'll provide some much-needed versatility in the frontcourt. A 10-minute YouTube video shows Gavrilovic, who turns 20 in November, displaying an array of post moves against a prep-school opponent while also swishing some feathery long-range shots.
"You ask why I choose Dayton — that's part of it, too. I don't want to play inside only. I don't want to play outside only. Coach Miller — we spent time in the gym, and he showed me videos of his teams, and I saw their plays. They can use me inside or outside to pick and roll, pick and pop, shoot, dribble," he said.
Gavrilovic signed with Providence in 2010 but was released from his letter of intent because of problems with his French academic transcript converting to American credits.
He couldn't play competitively in the U.S. last season, but he won a gold medal in the European championships with the French U-20 team and worked out against pros who train at IMG. He said he still needs to complete a couple of summer school classes at UD to satisfy the NCAA, but he'll have four years of eligibility.
"After meeting with the coach and players, I have confidence in them. I trust them," he said. "And I feel like they trust me, too. ... I feel like we can do something together."