Baer trumps one seed en route to runner-up spot at OKC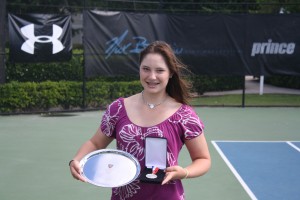 Allie Baer showcases her hardware from the 2011 OKC Open
This past weekend, IMG Academy Bollettieri tennis program-trained Allie Baer took runner-upat the USTA's Oklahoma City National Open in Norman, Oklahoma.
Baer, who just turned 15 and has been training at IMG for the past five years, was the youngest participant in her draw that included 31 other girls who were under the age of 17.
During her run to the finals, Baer upset the draw's number one seed 6-7, 6-4, and 7-5 in the quarterfinals, then took down the fourth seed in a match where she faced a 0-5 hole in the second set but fought back to earn the victory 6-2, 7-5.