Panthers' Cam Newton turning to ex-NFL QBs for pro tutorials
May 17, 2011
by: largeinc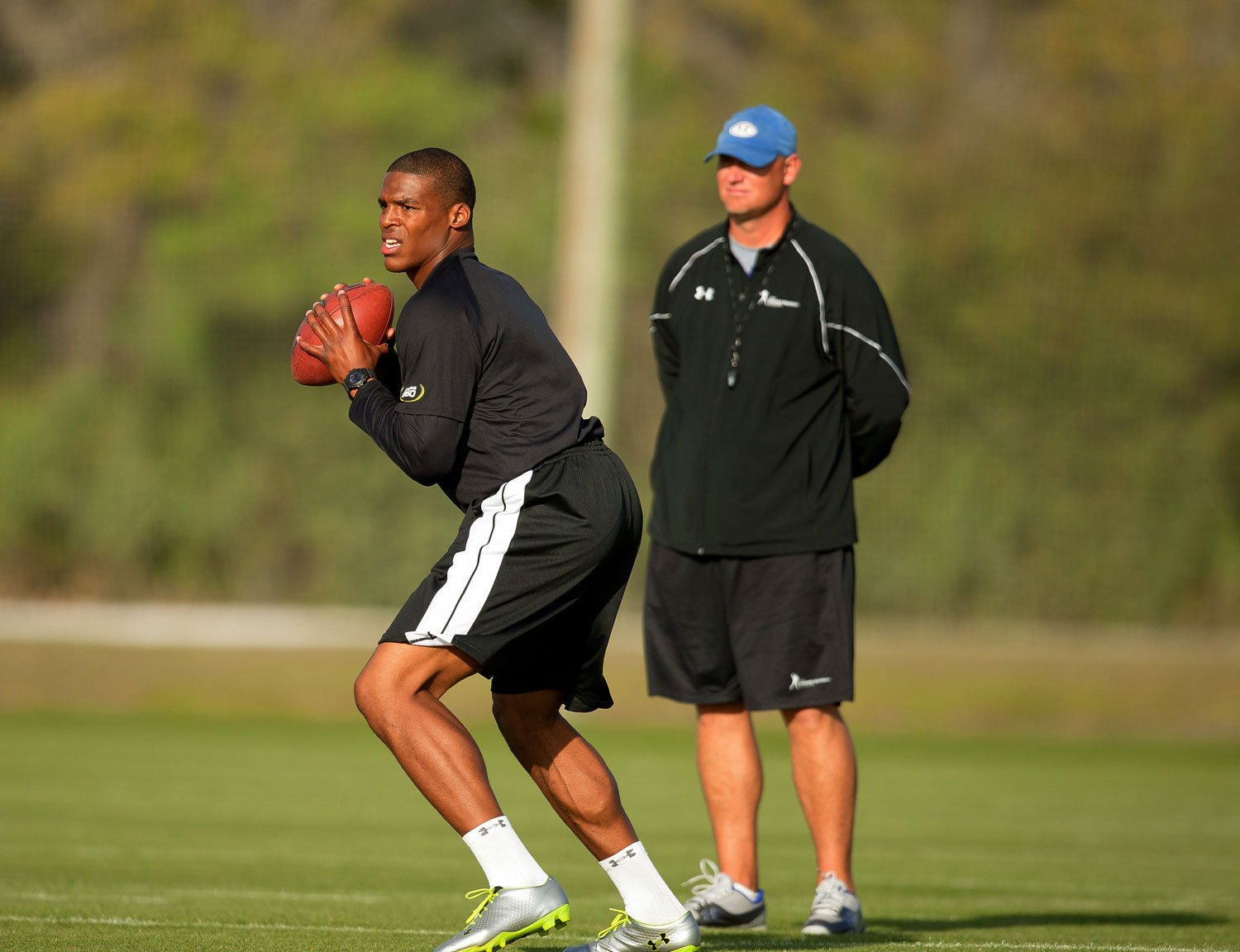 The subdued after-party wasn't what Cam Newton's quarterback coach, George Whitfield Jr., imagined for the top pick of last month's NFL draft.
In fact, the celebration was actually a low-key family dinner.
"It was really a long-exhale dinner," Whitfield said of the celebratory meal in New York City on April 28.
"It didn't feel like I thought it would when we first started working together."
Lights? Cameras? Action? Not so much.
"Normally, you would have thought the whole family and Team Cam would all jump up and down like somebody won a car on a game show," added Whifield. "But the expectations were so high. … And the road was so hard when you finally get there, it was more handshakes, hugs, feeling validation then exhale."
After dinner, Newton and Whitfield talked into the night about the steeper climb ahead. "We sat in Cam's hotel room and started talking about what's next," Whitfield said.
What's been next has been Newton doing everything possible short of working with his new Carolina Panthers coaches and teammates to stiff-arm the lockout blues.
For now, Newton has immersed himself in the Panthers playbook he was fortunate to secure when the lockout was briefly lifted. He is working hard with two expert translators, former NFL quarterbacks Chris Weinke— who's a former Panther — and Ken Dorsey at IMG's Madden Football Academy in Bradenton, Fla.
Weinke learned the current Panthers system from then-San Francisco 49ers offensive coordinator Norv Turner in 2006. Dorsey played in current Panthers offensive coordinator Rob Chudzinski's system from 2000 to 2003 at the University of Miami.
Weinke, who won the Heisman Trophy in 2000, met Newton, the prestigious award's latest recipient, in New York last December.
But it wasn't until he spent two sessions per day with Newton over a four-day span at IMG that he learned how driven the rookie is to fulfill his exceptional promise. "This guy wants it bad," Weinke, 38, said.
"If he continues to work and stay focused the way he is right now, there's no reason he can't go in as the starter Day 1.
"The guy's got as much drive as anybody I've seen. The misperception from outside is that he was going to be challenged by the intricacies and the verbiage of the NFL. And I have not seen that at all."
Weinke mapped a schedule mimicking a four-day NFL rookie minicamp from offensive installation to on-field repetitions followed by film corrections. He has stressed urgent, balanced dropbacks from a consistent throwing platform that translates to increased accuracy.
"He's been there on time, actually been there early," Weinke said of Newton's workouts. "Most importantly, he's always begging for more, asking all the right questions."
Newton has shown a perfectionist's work ethic.
"In our last session, we were working on a combination deep crossing route, and he wasn't satisfied with a decent throw," Weinke said. "He throws another one, a little high, but the receiver makes the catch. He said, 'I still don't like that. I have to get back faster and get the ball out quicker.'
"So he ran the same play four times until he felt comfortable with the timing and where he threw the football. … This guy will not move on until he knows he's doing exactly what he's supposed to."
Newton reminds Weinke physically and with his intensity of another IMG client, Tampa Bay Buccaneers third-year quarterback Josh Freeman.
"I look at Cam and Josh as almost mirror images of each other," Weinke said.
"Seeing the way Josh works was a huge advantage for Cam."
Weinke took his final NFL snap in 2007 and hopes to launch a new career as an NFL coach.
"Knowing (Panthers general manager) Marty Hurney and the people they brought in on Ron Rivera's new coaching staff, what they uncovered in their due diligence on Cam is exactly what I've see from him.
"They had no question marks.
"And now I understand what they mean because this kid is sharp and has the ability to be a big-time player."
Newton was in New Orleans on May 13 to receive the Manning Award, given to the nation's top college quarterback.
"One thing that I am worried about is to try to focus on learning as much as I can come time the lockout is lifted," Newton told reporters.
"It's a lot of material I do not know. But each day, I am learning something new.
"So by the time the lockout is lifted and I get a chance to talk to Coach Chudzinski and (quarterbacks coach Mike) Shula and meet back up with the team, I'll be on top of my game."
In the meantime, Newton works from 7 a.m. to 7 p.m. intent on starting Carolina's Sept. 11 opener at the Arizona Cardinals.
"He's doing all the right things," Weinke said. "This kid is going to be fun to watch — a very special, special talent."