Vitale Gala recognition humbles Bollettieri
May 19, 2011
by: largeinc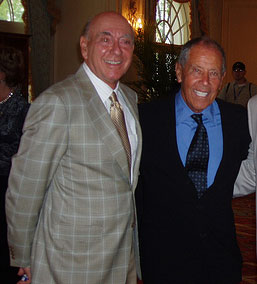 SARASOTA -- On Aug. 1, the day after he turns 80, Nick Bollettieri will jump out of plane for the first time since 1975, when he was an Army paratrooper.
He has become rich and famous and recognized across the globe for many accomplishments, including coaching 10 tennis players who became No. 1 in the world.
But tonight, standing amid a sea of basketball celebrities at the Ritz-Carlton Sarasota, Bollettieri will be recognized by the Dick Vitale Gala in its annual event to raise money for cancer research.
Bollettieri puts it right up there with the highest honors he has received, above being recognized as the most famous tennis coach in the world who founded his Tennis Academy that today has grown into IMG Academy.
"Being part of the Dick Vitale awards night means much more to me than whatever I had done in tennis," Bollettieri said. "It means being recognized as a person who tries to help people. Teaching tennis is the easiest part. This means that I can be part of a cause to help fight the dreadful disease of cancer.
"I am an IMG guy, but I am hoping that IMG Academy Bollettieri tennis program will remember Nick far more than for just teaching tennis, especially for delivering positive messages to our young people and my work with the Arthur Ashe Inner City programs."
Bollettieri will be honored along with college basketball coaching gurus Roy Williams of North Carolina and John Calipari of Kentucky.
Vitale says Bollettieri's recognition is long overdue.
"He has done so many positive things for young people," Vitale said. "Nick has a heart of gold. Whenever you ask for a favor or something to help a needy kid, he delivers. He has never been given the kind of credit he deserves and has been taken for granted."
Vitale calls Bollettieri's exclusion from the International Tennis Hall of Fame in Rhode Island a travesty, one he wants to see corrected.
"One of the biggest injustices in sports is that Nick Bollettieri is not in the tennis hall of fame," Vitale said. "There is a section for contributors to tennis, and there is no one in the world who has contributed more to the game. How they can put contributors in and not Nick Bollettieri blows my mind. It would be the saddest thing if he does not get in while he is living."
Bollettieri doesn't have time to get angry over being slighted. He is too busy.
He lives a whirlwind life that never stops. One of his biggest moments will come when he jumps out of a plane this summer with the Army Black Knights at West Point. It has been 36 years since the then-first lieutenant did his last jump. But as it is in his life, fear does not hamper him.
Bollettieri is just as excited to be part of the Jimmy V Foundation, named after former North Carolina State coach Jimmy Valvano, who died of cancer in 1993 at the age of 47. Vitale promised his good friend he would never let him die in vain, and from that pledge the V Foundation was founded.
"I turn 80 on July 31st and on the morning of August 1st, I am going to jump out of a plane," Bollettieri said. "But being honored with Roy Williams and John Calipari is just as special to me. Before Jimmy Valvano died, he said you can take everything away from me, but you can't take my heart away. The college basketball coaches said they were going to carry on the cause and they have."
All four of this year's Final Four coaches -- Shaka Smart from VCU, Brad Stevens from Butler, Calipari and Jim Calhoun of Connecticut, which won the national championship -- have agreed to attend.
Others from the basketball world who have committed to be at the Gala include Florida head coach Billy Donovan, Bob Huggins, Jay Wright, Dave Cowens, Larry Brown, Tubby Smith, Steve Fiscer, Seth Greenberg, Travis Ford, Ben Howland. Mark Gottfried, Vince Carter and Gary Williams.
Celebrities from other sports include three former Heisman Trophy winners in Vinnie Testaverde, Desmond Howard and Chris Weinke; former Wimbledon champ Don Johnson; FSU head football coach Jimbo Fisher; and ex-baseball players Gary Sheffield and Tino Martinez.
The gala host will be Rece Davis, who is expected to be joined by ESPN colleagues Erin Andrews, Leslie Visser and Dereck Whittenburg.