Vikings' Rudolph joined teammates in Florida
June 08, 2011
by: largeinc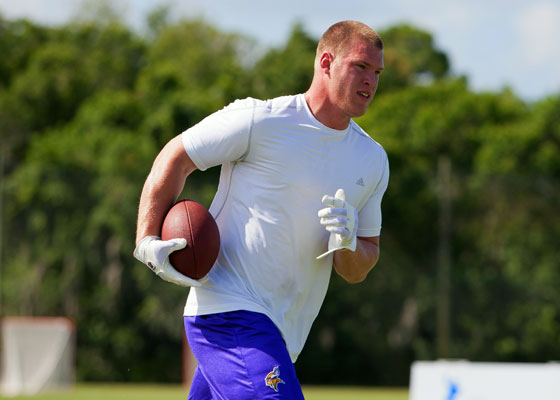 While first-round draft pick Christian Ponder gets deserved credit for trying to organize a bigger turnout of playmakers than the roughly seven who showed up for workouts last week in Bradenton, Fla., there was one other big name attending.
Second-round tight end Kyle Rudolph is showing equal dedication to preparation before his rookie season, even if the NFL won't allow players to have contact with coaches during the NFL lockout. That also means that Ponder, Rudolph and all the other draft picks are working out despite not being under contract.
Different players had different motivations for showing up to the IMG Academy in Florida for the workouts, and for Rudolph the benefits were physical, mental and social.
"For me, it was just to work with some of the guys we're going to be playing with, getting to know guys besides Christian — Joe (Webb), me and Greg (Camarillo) and others guys that we're going to be with come July or August, whenever this (lockout) gets fixed," Rudolph said after a morning workout in the weight room, followed by a cardio session in the swimming pool on the IMG campus. "To be able to come down — it's all good to be up at home (in the Cincinnati area) working out by myself, but that gets boring. To be able to come down here and have fun with these guys, it's been a good couple of days."
A typical IMG workout day last week consisted of speed and agility training, followed by a weight-room session, lunch, studying the playbook in a classroom setting (with former NFL, Florida State and Cretin-Derham Hall quarterback Chris Weinke) and then concluding with an hour or so of running routes on the practice fields, with Ponder, Webb and Rhett Bomar throwing passes to Rudolph and other receivers.
"Christian and I have been building our chemistry since the Combine and then had the Rookie Premiere all week together," Rudolph said. "Now it's just continuing to build here. Getting to meet some of the other guys, we all get along well. We're just down here having fun."
Rudolph's size and quick feet stand out while watching him on the practice field. At 6-foot-6, he was the tallest tight end at the NFL Scouting Combine, had the third-biggest "wingspan," fourth-biggest arms and was also fourth-heaviest at 259 pounds. He has the size to become an accomplished blocker, but his quick feet should also be an asset in running routes.
While the Vikings believe he can be an early threat in the passing game, he is likely to only get better if he continues his offseason training. He was expecting to head back to the Cincinnati area for a week or two before beginning to work out with Arizona Cardinals star receiver Larry Fitzgerald in Minnesota.
"For me, we're just really training and pushing to get in shape. For me, it's getting my legs fresh and ready for that 16-, 20-week season that we'll have throughout the course of the next five months," Rudolph said.
In the weight room at IMG, Rudolph was pushed by conditioning coach Jeff Dillman and likely getting a different workout than he would if he were allowed to use the Vikings' facility in Eden Prairie.
"I think they are getting more hands-on, one-on-one work (at IMG)," Dillman said. " . . . Everybody needs to know why — why are we doing this? A lot of times NFL teams, they get them in, they get them out. They want to keep them healthy. They do a light lift and train. Here, I'm going to get after them. I don't get paid any more or any less by training these guys. At the end of the day, I'm going to train them hard."
Rudolph was among those getting hard training, and he was realizing his severe hamstring injury — suffered last October while with Notre Dame — is back to normal, allowing him to push himself this offseason even if his Vikings coaches aren't allowed to do that.